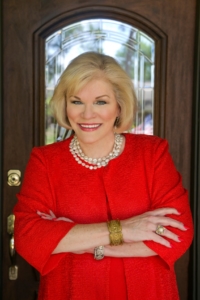 Name: Andrea Snoddy
Title: Broker/Owner
Company: Andrea Snoddy & Associates Residential Real Estate Services
What was your first job in the realty industry? Assistant to Lynn Zarr with Zarr & Co Realtors, which is now Heritage Texas Properties
Where did you grow up? Houston, TX in the Tanglewood neighborhood
Growing up, what did you want to be? I wanted to run my own business. I didn't know until age 25 that I would have a passion for real estate.
What do you do to relax when you're stressed? Short trips to clear my mind, body and soul.
If you could have lunch with a well-known figure (living or not), who would it be and why? Vince Lombardi, famous football coach. He always had his eye on the prize and encouraged players to have the same mentality!
Where is your favorite place to hang out? Home. I love to have friends and family over and cook or entertain for large crowds. During Harvey, I was stuck out of town for 11 days and could not fly home! The minute I got home, I had friends for dinner.
What do you love most about the industry? The satisfaction of finding the perfect home for a client! Secondly, the negotiation process because it constantly challenges me to improve this skill. If you ever meet a realtor who says they know everything about real estate, run in the opposite direction. Each and every deal is different.
How do you distinguish yourself from the crowd of agents? I'm the "head of the horse", so to speak. Therefore, my clients get 150% of my attention. They are not just an address to me — they become a good friend and I love the bonds I develop.
What is the most difficult aspect of your job? Negotiations for repairs. It's an emotional situation for both buyer and seller.
Where do you go to network and meet new clients? Various charity functions
What has been your greatest accomplishment? Getting my Broker's license and opening my company on my tenth anniversary of being cancer free. I have loved hiring new agents and training them to succeed in the business!
What is your favorite restaurant? Molina's. I have to have my Mex food fix once a week!
Architecturally speaking, what is your favorite building in Houston? Williams Tower or the Water Wall
What kind of car do you drive? Ford Explorer SUV
What is your favorite city after Houston? Lake Tahoe, CA
In 10 words or less, what is your advice for someone new to the industry? Be a farmer…plant seeds and watch them grow!
What's your favorite real estate iPhone/Android app? HAR
Who are your favorite people to follow on Twitter? The Property Brothers