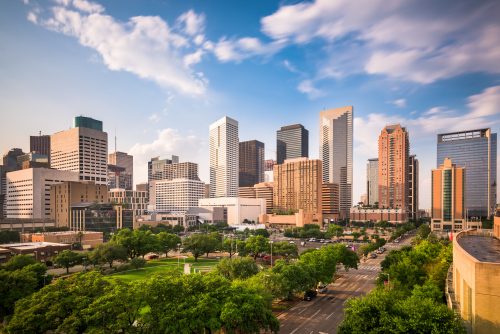 Texas is home to the two largest-growing metropolitan populations in the United States, according to data from the U.S. Census Bureau.
Houston-The Woodlands-Sugar Land was listed as the metropolitan area with the second-biggest gains in the country. The population increased by 94,417 from 2016 to 2017, when it reached nearly 6.9 million
The No. 1 largest-gaining metropolitan area was Dallas-Fort Worth-Arlington, growing by 146,238 residents for a 2017 population of nearly 7.4 million.
Harris County was the fourth largest-gaining county in the country with 35,939 people added, from about 4.62 million in 2016 to 4.65 million in 2017.
Six of the top 10 largest-gaining counties were in Texas, including Tarrant (No. 5), Bexar (No. 7), Dallas (No. 8), Denton (No. 9) and Collin (No. 10).
Harris County also ranked as the No. 3 most populous county in the country for 2017, behind Los Angeles County, California, and Cook County, Illinois.
See the top 10 largest-gaining metropolitan areas below.
| | | | | |
| --- | --- | --- | --- | --- |
| Rank | Metropolitan Area | 2017 Population | 2016 Population | Numeric Change |
| 1 | Dallas-Fort Worth-Arlington, TX | 7,399,662 | 7,253,424 | 146,238 |
| 2 | Houston-The Woodlands-Sugar Land, TX | 6,892,427 | 6,798,010 | 94,417 |
| 3 | Atlanta-Sandy Springs-Roswell, GA | 5,884,736 | 5,795,723 | 89,013 |
| 4 | Phoenix-Mesa-Scottsdale, AZ | 4,737,270 | 4,648,498 | 88,772 |
| 5 | Washington-Arlington-Alexandria, DC-VA-MD-WV | 6,216,589 | 6,150,681 | 65,908 |
| 6 | Seattle-Tacoma-Bellevue, WA | 3,867,046 | 3,802,660 | 64,386 |
| 7 | Riverside-San Bernardino-Ontario, CA | 4,580,670 | 4,523,653 | 57,017 |
| 8 | Orlando-Kissimmee-Sanford, FL | 2,509,831 | 2,453,333 | 56,498 |
| 9 | Austin-Round Rock, TX | 2,115,827 | 2,060,558 | 55,269 |
| 10 | Tampa-St. Petersburg-Clearwater, FL | 3,091,399 | 3,036,525 | 54,874 |