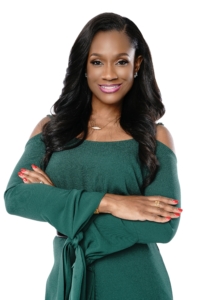 Name: Ige Johnson
Job Title: Broker/Owner
Company: RE/MAX Generation
What was your first job in the realty industry? Loan processor and loan officer.
Where did you grow up? Inner city Houston.
Growing up, what did you want to be? Teacher.
What do you do to relax when you're stressed? Listen to music.
If you could have lunch with a well-known figure (living or not), who would it be and why? Oprah Winfrey.
Where is your favorite place to hang out? Home on the couch with fuzzy socks and a blanket.
What do you love most about the industry? Navigating through different transactions and securing my clients' investments.
How do you distinguish yourself from the crowd of agents? I'm a professional that knows and understands credit, the lending side, and contract negotiations of the deal to help facilitate a smooth transaction.
What is the most difficult aspect of your job? Balancing work and family.
Where do you go to network and meet new clients? Hosting my past clients' housewarming parties.
What has been your greatest accomplishment? My family and successfully running three businesses.
What was the last good movie you saw or book you read? "13 Hours."
What is your favorite restaurant? Houston's.
Architecturally speaking, what is your favorite building in Houston? Bank of America Center.
What kind of car do you drive? 2017 Maserati Ghibli Sport.
Smartphone or paper? Smartphone.
What is your favorite city after Houston? Austin.
In 10 words or less, what is your advice for someone new to the industry? Learn More Earn More! Trust The Process! Don't Give Up!
What's your favorite real estate iPhone/Android app? Android.
Who are your favorite people to follow on Twitter? My boys.