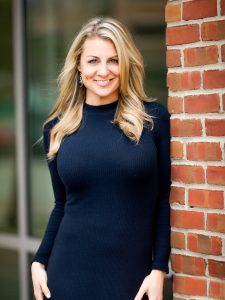 Name: Jennifer Ciulla
Job Title: Realtor
Company: The Jennifer Ciulla Group at RE/MAX Fine Properties
What was your first job in the realty industry? Leasing Consultant
Where did you grow up? Sugar Land, TX
Growing up, what did you want to be? Marine Biologist
What do you do to relax when you're stressed? Spa time, hit the beach, listen to music or read (usually accompanied with a good glass of wine)
If you could have lunch with a well-known figure (living or not), who would it be and why? Katharine Graham — First ever female CEO of a Fortune 500 Company. "To love what you do and feel that it matters – how could anything be more fun?"
Where is your favorite place to hang out? My back patio
What do you love most about the industry? The friendships/relationships I have made along the way. I love being part of such an important decision. A home is where memories are made and people grow together.
How do you distinguish yourself from the crowd of agents? I try to keep all things classy from relationships with clients and other realtors to marketing materials.
What is the most difficult aspect of your job? Sometimes it is simply trying to balance work and family life.
Where do you go to network and meet new clients? Meeting new clients: I have found effectively through the open houses. Networking: I truly do it anywhere, whether it be the grocery store line or the women networking group I am a member of. Networking doesn't feel like networking though, I love to chat with anyone.
What has been your greatest accomplishment? Raising my two daughters & persevering through some hardships (everyone has endures them).
What was the last good movie you saw or book you read? The Secret & Miracle Morning
What is your favorite restaurant? Ristorante Max in Positano Italy & Grouse Mountain Grill in Beaver Creek, CO
Architecturally speaking, what is your favorite building in Houston? The Rice University Campus
What kind of car do you drive? One with 4 wheels, a good sound system, and AC because its way too hot in Houston
Smartphone or paper? BOTH!
What is your favorite city after Houston? Tuscany Italy but in Texas- Austin
In 10 words or less, what is your advice for someone new to the industry? Do not reinvent the wheel, watch the successful agents and do what they are doing.
What's your favorite real estate iPhone/Android app? I have many but the basics that are lifesavers are Docusign and HAR. (I know that is a boring answer but to have them available on my phone allows me to provide faster responses to my clients).
Who are your favorite people to follow on Twitter? I hate to admit but I am more of an Instagram and FB user
---
Want to be featured in our Agent Snapshot? Click here and complete this survey. Agent Snapshots are published on our website and shared in our newsletter and social media feeds.