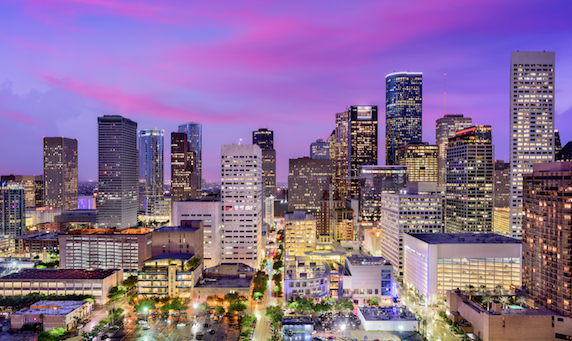 Residents of Houston's Third Ward are fighting for a say in the neighborhood's development. According to Next City, as a result of the developments in the area, home prices in the Third Ward increased 176 percent in the span of thirteen years. A majority of residents, about 70 percent, have no say in what the developments are because they are renters and only homeowners have a say. To increase the amount of affordable housing in the area, the Emancipation Economic Development Council implemented a board that allows non-owning residents to be a part of the decision process.
In other real estate news:
Almost a year after Hurricane Harvey hit Houston, affected residents still struggle to find affordable housing. According to a

press release

, to help with Houstonians housing struggles, Houston Habitat for Humanity decided to waive an applicant's requirement to be a first time homebuyer. The waiver will last through 2019. "Through our ongoing recovery efforts, we see Harvey's destruction and continued devastation every day. Now, more than ever, our program is essential to provide our neighbors with the safe, affordable housing they need.," said Houston Habitat for Humanity Executive Director, Allison Hay.

A new residential development and business park is coming to Waller. Wolff Cos. purchases 521 acres from the Schild family, right off U.S. 290.

Chron

reported the company paid between $15 million and $20 million in a cash deal for the property. Wolff Cos. plans on using the land for a Beacon Hill business park and a master-planned community.

Nan & Company closed on new office space in the historic Heights neighborhood. In a press release, the company announced its second office location will incorporate innovative and technology-driven modern advances. The three-story building will include nap pods, meditation and training rooms, a full kitchen and a rooftop. Integrity Interior & Exterior will lead construction and JD Bartell will lead the project's design. The office space is expected to be completed in summer 2019.

Fein announced its newest luxury project, Reverie at River Hollow. The

Houston Business Journal

reported the company purchased almost 3.4 acres of land for the new project, which is set to break ground in August. Reverie at River Hollow, located in the 610 loop, will offer one-, two-, or three- bedroom floor plans and 304 units with various amenities for residents. The project is set for completion at the end of 2020.

HistoryMaker Homes' fifth Houston-area development, Harper's Preserve, opened in Conroe. The gated Harper's Preserve community offers buyers one- and two-story designs that range up to 3,191 square feet, according to

Builder

. Upon completion, the community is expected to house over 1,500 families.

As a part of Empire Communities' expansion around the U.S., the company acquired Centerra Homes. In press release, the Canadian based company announced its acquisition as a strategic part of its growth plan for Texas. "Centerra Homes shares similar corporate values and vision and has a strong team and management group that have earned them solid respect in the Texas homebuilding market," said Regional President of Empire's Texas Homebuilding Division, James Miller. The Texas Homebuilding division is based out of Texas and this acquisition will expand its reach to Austin and San Antonio.

Plantation Homes announced the opening of two models in Manvel's Meridiana. According to a press release, as part of new new floor plans, the Leona design offers four bedrooms, an open concept common area and a covered patio. The Leona homes start in the $240,000s. For existing floor plans, the Lindsay design offers four bedrooms and baths, a three car garage and various amenities. Lindsay homes start around $340,000.