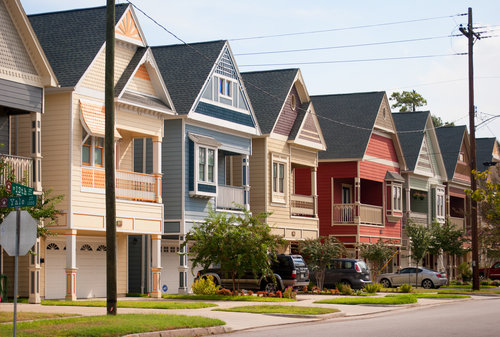 Townhome sales in Texas grew more than 6 percent between over the past year, according to the Texas Condominium Sales Report from the Texas Association of Realtors.
According to the report, townhome sales spiked 6.3 percent from June 2017 to a total 9,064 sales in June 2018. The total dollar volume in sales of townhomes in Texas from July 2017 to June 2018 was $2,333,963,626.
But condominium sales showed a rather underwhelming performance over the last year as sales fell 2.1 percent to just 14,279 total sales. Although condo sales fell short over the last year, the total dollar volume was $3,414,945,120.
"Despite the slight decrease in sales, the Texas condominium and townhome market remains one of the most popular segments of the Texas housing market," said Kaki Lybbert, chairman of the Texas Association of Realtors. "With less maintenance and close proximity to popular attractions, many retirees and young professionals prefer condos and townhomes as an affordable alternative to traditional, single-family homes."
The report notes that inventory across the state decreased slightly — 0.1 months for townhomes to 4.6 months and 0.2 months for condos to 4.5 months — between June 2017 and June 2018, which inevitably caused the increase in sales prices. The statewide median sales price of townhomes in June 2018 faced a 2.3 percent increase to $226,000 compared to last June. As for condos, the median price rose 3.4 percent to $185,000.
New townhome and condo listings over the last year in Houston alone came in relatively close in number, at 6,680 and 6,571 respectively. Of those, 1,337 townhomes and 1,404 condos listings were active. Houston's inventory was also a bit stronger than the overall Texas inventory as townhomes had a 5 months supply while condos had a 4.6 months supply as of June 2018.
"Across our major markets, condominiums and townhomes are more suited to meet the affordable demands of housing in high-density urban areas," said Jim Gaines, chief economist with the Real Estate Center at Texas A&M University. "As population growth continues to climb especially in major metropolitan areas of Texas, condominiums and townhomes are prime options for residents looking to own property in densely-populated areas under $300,000."
While Texas inventory continued to decline, the average days on the market fell last year as well as demand continues to grow. Townhomes spend an average of 61 days on the market while condos spent 65 days.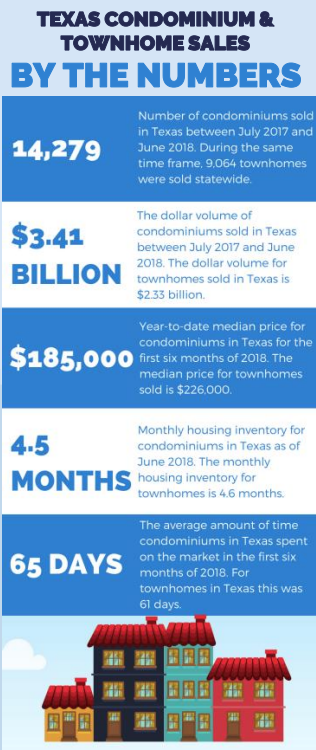 Source: Texas Association of Realtors