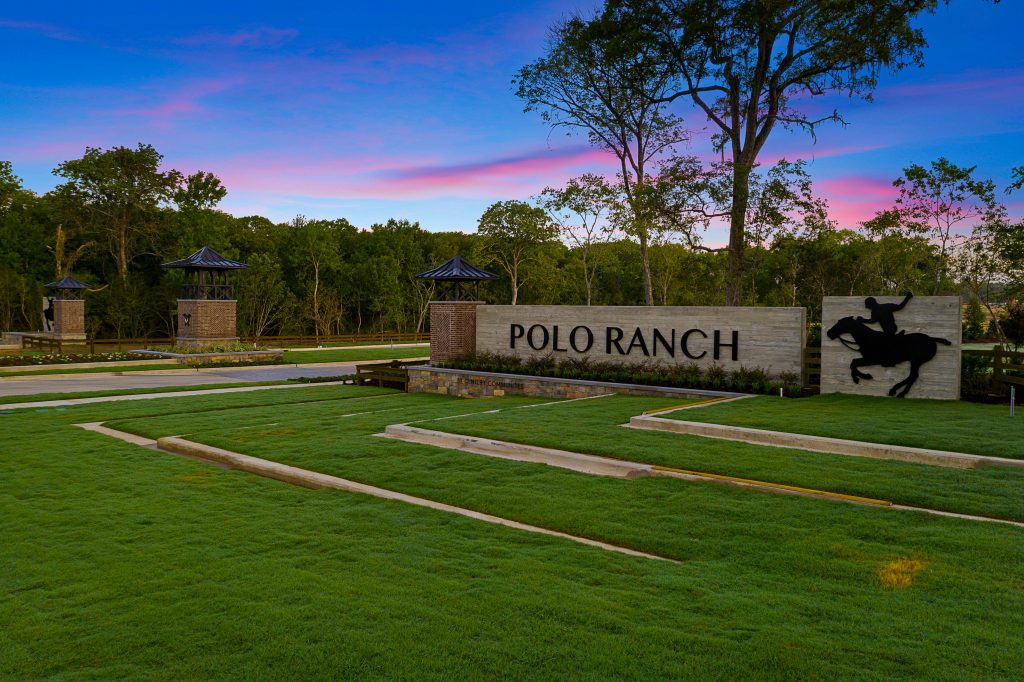 Owning a home has long been the American Dream, but depending on a homebuyer's stage in life, that dream has different meanings. Understanding that entry-level, move-up buyers and empty nesters all have unique wants and needs, Century Communities has stepped up to fulfill the wish lists of these dynamic consumers with Polo Ranch.
Situated on gorgeous rolling hills in upscale Fulshear, Texas, unique terrain in an area made up of mostly flatlands, Polo Ranch is a 220-acre master-planned community solely built by its developer, Century Communities. Beautifully designed from the inside out—a professional colorist selected hues to enhance streetscapes and create bright and airy interiors—the homes are priced from $180,000 to the high $300,000s. The affordability factor, not previously present in Fulshear, an established area with long-standing, high-end neighborhoods, is testament to Century Communities living its brand of delivering "a home for every dream." Most of the homes are built on cul-de-sacs and dead-end streets, preventing thru traffic from disrupting the peaceful vibe of the neighborhood.
Century Communities broke ground on the property in August of 2018, and buyers began closing on homes in November the following year. At build-out, estimated to be in 2024, Polo Ranch will have 781 homes. "Traditional Fulshear was home to large lot, estate-type of homes for custom and semi-custom buyers," said Chris Chew, Houston Division President of Century Communities, noting public servants, such as teachers, police officers and firefighters were priced out of the area. "We're helping fix the problem. This is an affordable, value community at a high-quality presentation."
Small town charm
In Fulshear, everyone seems to know each other, said Courtney Witt, community sales manager for Polo Ranch. "It's a small town. That makes it really special. The homebuyers appreciate it." Century Communities actually purchased the property from a Fulshear resident, Lou Waters, a well-respected member of the community and the Houston Polo Club. Waters' daughter, Kristy Outhier, is a highly accomplished polo player. She lives with her family on the property next door to Polo Ranch and still hosts high-profile polo matches on the land. Residents may even catch a glimpse of an exciting competition while going about their daily routines.
The Polo theme is woven throughout the community. Each home, like the grand monuments at the community's entrance, has a bronze address plaque with a polo horse etched on it. Additionally, all of the streets are named after champion polo players and terminology used in the game. Brandon Cruz, a realtor with Tricia Turner Properties Group, recently sold a home to first-time buyers on Heguy Pass, a street honoring renown Argentine polo player Eduardo Heguy. A young couple without children, they wanted to live in a country setting that was close to their jobs and they found it at Polo Ranch. They chose a single-story, 1,400 square-foot home with 3 bedrooms, 2 baths, and a two-car garage. Awed by the easy flow of the open concept floorplan and breathtaking views of the treelined backyard, the couple was also thrilled with the development itself, which is 15 minutes away from their jobs. But that's not all. Polo Ranch is just a half mile from downtown Fulshear, home to restaurants, businesses and soon an HEB grocery store, as well as a new marketplace with boutiques. "It's so close to downtown Fulshear," Cruz says. "It has that small town feel next to a city."
Desirable location
Located in close proximity to shopping, employment and entertainment, Polo Ranch offers residents convenient access to the West Park Tollway and I-10, major thoroughfares that lead to Katy and Houston. In fact, Fulshear is about 30 miles from Houston, the Energy Corridor and the Medical Center, major employment hubs, helping make work life balance a reality.
Sought-after schools
Zoned to the highly acclaimed Lamar Consolidated Independent School District (LCISD), all of the schools are located within the same general area, approximately a five-minute car or bus ride away. Children attend grades K-5 at Huggins Elementary; grade 6 at Roberts Middle School, which opened in 2019 to ease the transition to junior high; grades 7 and 8 at Leaman Junior High; and grades 9-12 at Fulshear High School.
Fantastic amenities
Protected green spaces, winding nature trails, and the calming waters of Bessie's Creek are sure to beckon neighbors to the outdoors, to take in the ethereal atmosphere and fresh air. Polo Ranch boasts an impressive number of amenities and annual HOA dues under $700, a rare find for all it has to offer. An amenities center is coming in 2020. Residents will be able to cool off at the resort style pool, featuring lap lanes to accommodate swim teams and an open-air pavilion for picnics. Adjacent to the pool will be a recreational lawn for sports and a playground area for little ones to explore. In addition to all that, the community will also have several pocket parks, including a dog park for furry friends to get their energy out.
Outstanding customer experience
Century Communities makes the process of buying a home at Polo Ranch easy to navigate. "We wholeheartedly believe that every customer deserves an exceptional experience," Witt says. "From the initial meeting and throughout the entire process, they are guided to closing." Homebuyers attend an orientation, multiple meetings with construction managers and are given the option to work with the developer's in-house, preferred partnered lender.
Choosing the homes interior selections is all done in-house, not at an off-site design center, Witt says. Homesites come in three sizes: 45-foot; 50-foot; and 60-foot. "In our 45- and 50-foot collections, we have packaged selections, finishes that are popular with customers," Witt says. "That makes the process a lot easier for homebuyers." They can actually see what the standard selections look like in the more than 30 model homes going up right now. Although there is some customization with the 60-foot homesites, Witt says, all of the homes have open concept floorplans (the two-story collections have the popular master-down option) and include as standard features: granite; solid surface flooring throughout the main living areas, sprinkler systems outside the front and back of every home, tankless water heaters and covered back patios.
Century Home Connect, the developer's smart home option, includes such modern day conveniences as Schlage keyless front door entries, Nexia WIFI thermostats, and a virtual home assistant that helps organize and connect all smart home devices and provides information on the Internet by voice command) and Eaton light switches that can be turned on and off via a cellular device.
"Fulshear was a small town but not anymore," Cruz says. "It's blowing up. A lot of communities are coming in and there's a lot of business development." Even so, he says downtown Fulshear still maintains its small town charm.
To learn more, visit www.centurycommunities.com.