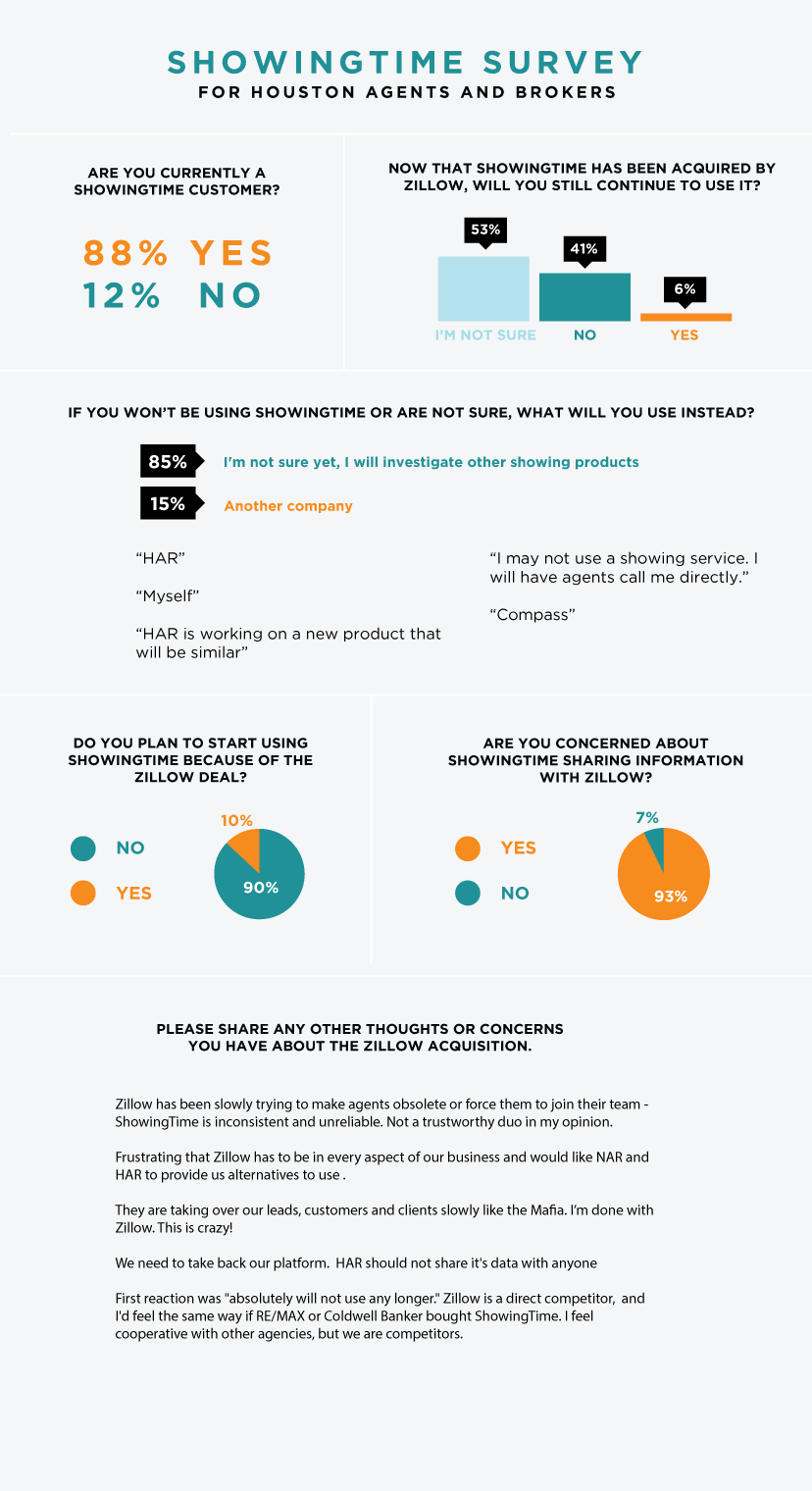 The news that Zillow is purchasing ShowingTime for $500 million sent shockwaves through the residential real estate industry in February.
The online scheduling platform reports that nearly 1 million agents use ShowingTime in North America, and the app facilitated more than 50 million showings in 2020. That's why so many traditional brokers now worry that Zillow will collect ShowingTime users' information and then use it to help edge them out of the market.
Houston Agent magazine readers responded to our survey about the mega-deal, with 88% saying they use the app, and over two-fifths (41%) saying they are dropping it. The majority of users (53%) said they are uncertain whether they'll continue using ShowingTime, while the remaining 6% said they will keep using it.
Of the users who said they'll find another method of scheduling showings, the vast majority (85%) were unsure how they would replace the app. Some respondents said they'd do things the old-fashioned way — one user said they'd pick up the phone, and another noted, "I may not use a showing service. I will have agents call me directly."
Zillow said in February that purchasing the app would help increase tour volume and transactions for its agents, adding that many of them already use ShowingTime. The company also noted that ShowingTime would "maintain its existing data privacy policies."
Despite the public statement, Zillow has some heavy lifting to do to develop trust among its users. Most users (93%) said they are concerned that ShowingTime will share their information with Zillow.
One ShowingTime user gave this take on the deal: "It's frustrating that Zillow has to be in every aspect of our business and would like NAR and HAR to provide us alternatives to use."
Another respondent said: "Zillow is nothing more than the Walmart of real estate. They come in promising the world and once they have crushed any competition they will be the only game in town."