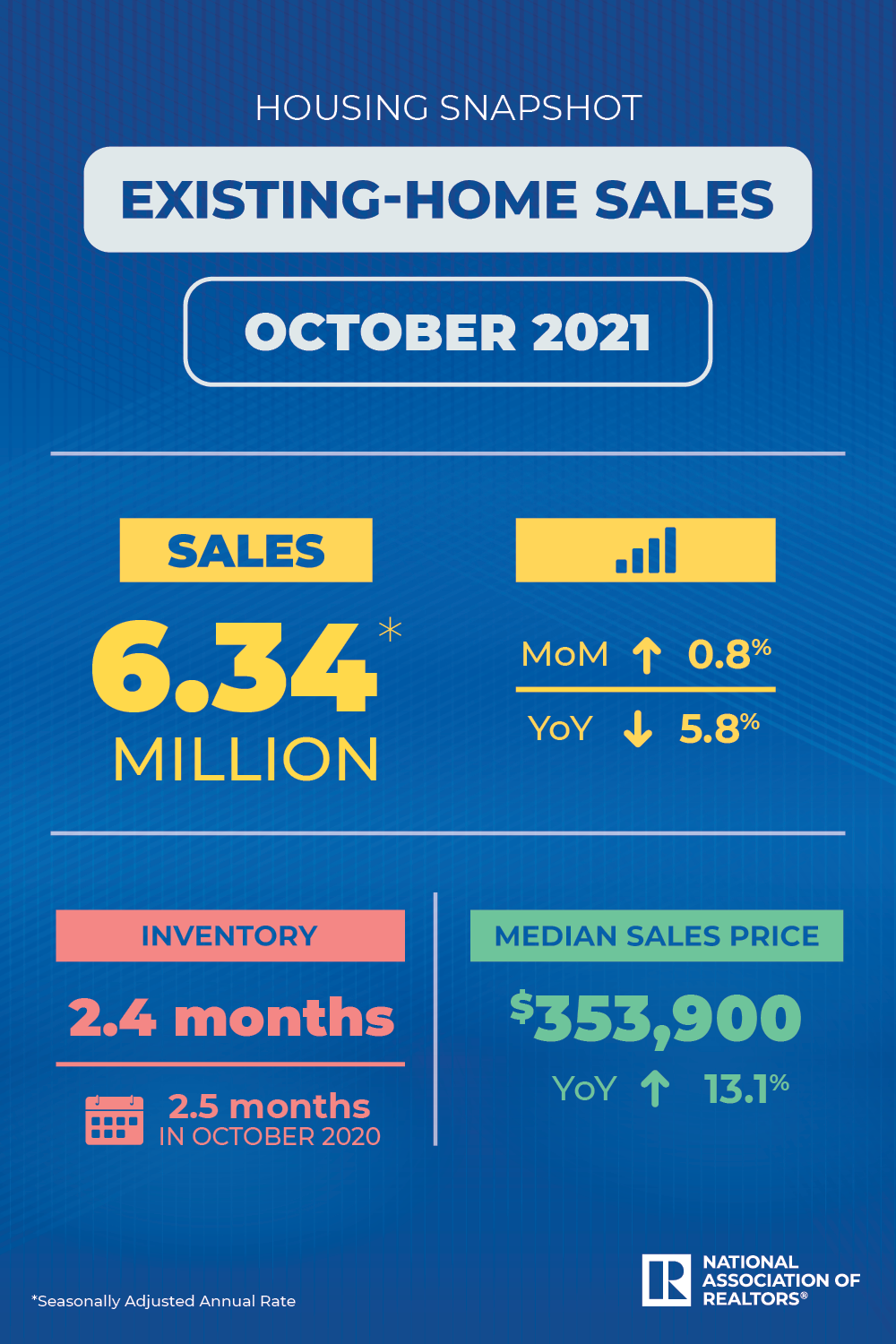 Existing-home sales rose for the second month in a row in October, as the median sales price also posted an increase, marking 116 consecutive months of gains, the longest streak on record, the National Association of Realtors said.
Total existing-home sales, which are completed transactions, including single-family homes, townhomes, condominiums and co-ops, rose 0.8% from September to a seasonally adjusted annual rate of 6.34 million in October. Year over year, sales were down 5.8% from 6.73 million transactions in October 2020.
The median existing-home price for all housing types in October was $352,800, up 13.3% from October 2020, as prices rose in each region, the NAR said in a press release.
Total housing inventory at the end of last month stood at 1.25 million units, down 0.8% from September and down 12% from a year earlier. October's unsold inventory represented a 2.4-month supply at the current sales pace, flat with September's supply and down from 2.5 months last year.
"Home sales remain resilient, despite low inventory and increasing affordability challenges," NAR's chief economist Lawrence Yun said in the release. "Inflationary pressures, such as fast-rising rents and increasing consumer prices, may have some prospective buyers seeking the protection of a fixed, consistent mortgage payment."
Properties typically remained on the market for 18 days in October, up from 17 days in September and down from 21 days a year earlier. Eighty-two percent of homes sold in October 2021 were on the market for less than a month.
By property type, single-family home sales hit a seasonally adjusted annual rate of 5.66 million, up 1.3% from 5.59 million in September but down 5.8% from a year earlier. The median existing single-family home price was $360,800, up 13.5% on a year-over-year basis.
Existing condominium and co-op sales came in at a seasonally adjusted annual rate of 680,000 units, up 2.9% from 700,000 in the previous month and up 5.6% from a year earlier. The median existing condo price rose 8.7% year over year to $297,900.
"Among some of the workforce, there is an ongoing trend of flexibility to work anywhere, and this has contributed to an increase in sales in some parts of the country," Yun said. "Record-high stock markets and all-time high home prices have worked to significantly raise total consumer wealth and, when coupled with extended remote-work flexibility, elevated housing demand in vacation regions."
In October, first-time buyers were responsible for 29% of sales, up from 28% in September and down from 32% a year before, while individual investors or second-home buyers, who make up many cash sales, purchased 17% of homes in October, up from 13% in September and 14% in October 2020.
By major U.S. region, sales of existing homes rose 4.2% in the Midwest and 0.4% in the South, while they were flat in the West and fell 2.6% in the Northeast.
Mortgage rates were on the rise in October, as the average commitment rate for a 30-year, conventional fixed-rate loan was 3.07%, compared to 2.90% in the prior month, NAR said, citing Freddie Mac.