Houston Realtor Traye Wise had no idea the photos taken for one of his listings, 5304 Michaux St., would cause such a stir. But with interior photos like the one pictured here (brought to our attention via Swamplot), how could they not?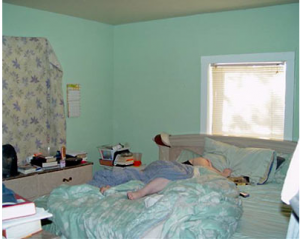 Here's the story Wise told Houston Agent about this property: the current tenants are being evicted, and therefore, were uncooperative in making the home look attractive to any other buyers. They refused to clean it for showings and, clearly, even refused to move when Wise and his assistant stopped by to take interior photos for the listing website; Wise said he asked the husband if he could rouse his wife from bed so they could take just one photo of the bedroom's interior sans tenants, and while the husband allegedly told his wife to get out of bed, she refused.
"This was in no way done on purpose," Wise said about the bedroom photo. "It was supposed to be edited to take (the woman sleeping in bed) out. It was supposed to be Photoshopped, and my assistant put it up by mistake."
Though this photo, which has since been removed from the listing's photo gallery and replaced with an edited one, was the worst photo of the bunch, the other interior photos aren't all that great either – photos of the kitchen, dining area, den and other bedrooms showcase messes that prevent anyone from seeing appliances and qualities of the home. Wise admitted he knows those photos don't depict the listing in the best light, but again, the tenants were uncooperative and refused to clean (in spite of having various cleaning products, including a mop, broom, paper towels and Clorox wipes, which are also shown in these photos). His thought was to put up the interior shots he had and return after the tenants had moved out at the end of January to take nicer ones.
However, since this listing and the bedroom photo in particular has gone viral, Wise said he plans on removing all interior photos and leaving the exterior photos only, for now.
Wise had no idea his listing would get this type of attention, and reiterated to us that he did not mean to post the photo with a tenant still in bed. "Photos of a messy house is one thing, but a person in bed is another. It was supposed to be Photoshopped."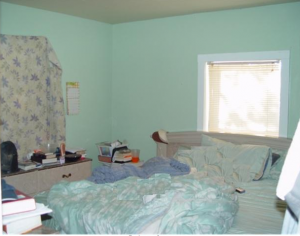 In fact, a Photoshopped photo has been added to the listing. That's not a bad editing job: