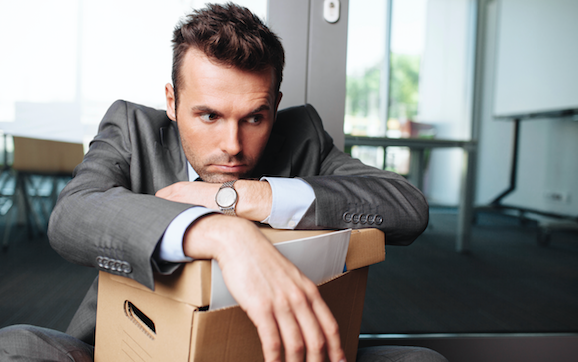 Going only by headlines, it would be tough to discern the true state of Houston's economy. On Monday it might seem like the city is tanking, but on Tuesday the tone might very well be "Houston's resilient real estate market good news for newcomers," as the Houston Chronicle reported in March.
In December, Roger Widmeyer, director of communications for Houston's controller's office, told Houston Agent magazine that in light of low oil prices: "We're facing some real challenges here."
He was right.
Here are the three major trends currently affecting Houston's economy:
1. Stagnant employment and layoffs
The damage low oil prices have done to Houston's market is undeniable. Not only has employment stagnated on a year-over-year basis, but layoffs in the city abound and have pushed up the employment rate, according to the Texas Workforce Commission (TWC).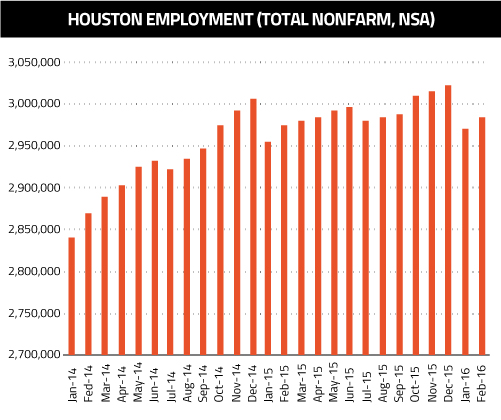 In April alone, the bankruptcy, closure and layoff announcements have been staggering:
Houston-based Goodrich Petroleum announced plans to file for bankruptcy.
Spring-based Devon Energy announced it will close its doors later this year, eliminating 60 jobs.
Maesk Oil announced it will close its Houston office, eliminating 60 jobs.
BP authored a letter to the TWC outlining its expectations to cut 500 jobs in Harris county this year.
Chevron announced plans to cut 655 Houston jobs this year.
Texas oil driller Energy XXI filed for bankruptcy.
Year-to-date, Texas accounts for more layoffs in the U.S than any three states combined – due in large part to energy sector cuts in Houston.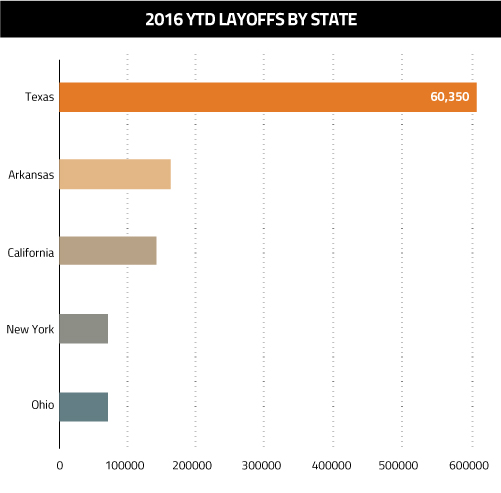 2. Vacancies
With local energy companies closing and shedding their workforces, vacancies, both commercial and residential, have become a serious concern for Houston's real estate professionals. According to real estate services company Savills Studley, office space in the city is becoming almost too available. From Q4 2014 to Q4 2015, the amount of available sublease space jumped by more than 3 million square feet to 7.6 million, while the occupancy rate for office space climbed from 17.8 percent to 23.2 percent.
Earlier this month, local Senterra Real Estate Group announced it would not be moving forward with a Midtown office building that had been planned since last summer, because it was unable to prelease enough of the building.
But vacancy issues aren't confined to the commercial sector.
Despite Houston maintaining a rather strong multifamily market in recent years, Class A apartment vacancies are also on the rise, according to CBRE. In recent months, the occupancy rate for such apartments has dropped to 86 percent – 10 percent below Class B occupancy.
3. Oil rig count
Perhaps the biggest indicator of where Houston's economy is heading is the oil rig count, because it denotes production. It's down, and the City expected it.
In our December interview, Widmeyer revealed that in the controller's projections of Houston's economy, the office regularly cites a report authored by University of Houston professor Robert Gilmer. In his report he wrote: "The likelihood continues to grow that declines in oil-field activity will be steeper, deeper and last longer than could be anticipated at this time last year – or even as late as this summer."
Gilmer reported that baseline expectations for major investment houses like Raymond Jones and Goldman Sachs see no improvement in the rig count before 2017, and don't project the price of oil to top $60 before Dec. 2021.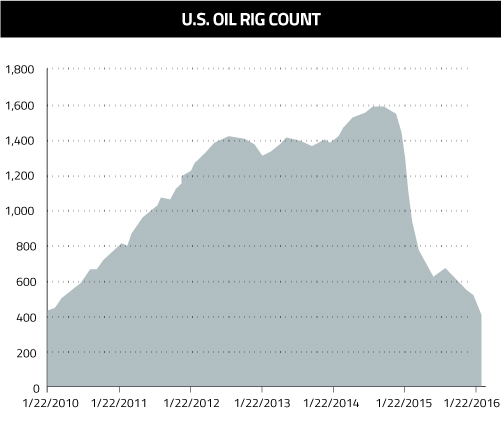 Gilmer, Raymond Jones and Goldman Sachs were all right in their analyses, as a report from Bakers Hughes recently showed another drop in the U.S oil rig count, bringing the overall count down to 440; a more than 500 rig drop from last year, and the lowest rig count recorded since Baker Hughes started tracking activity in 1975.