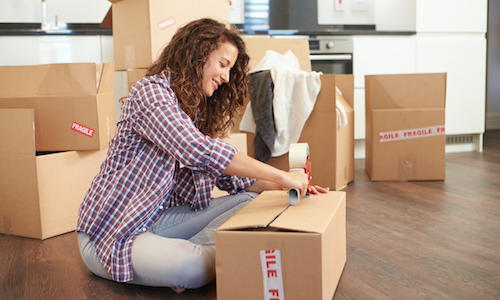 The prevalence of women in the workforce has grown tremendously over the past few decades, and as a result, working moms have gained buying power in the real estate market. However, as a recent study from WalletHub pointed out, some states are more accommodating to working moms than others.
In its study, the personal finance website looked at the cost, quality and availability of child care; the professional environment as it pertains to women (i.e. gender pay gap, ratio of female to male executives, median salary, female unemployment rate, etc.); and average afforded work-life balance, which weighed policies on parental leave, as well as the length of the average work week and commute.
Texas, unfortunately, is one of the states on the unaccommodating side of the spectrum. Its "child care" ranking was relatively high at No. 17 – in large part to state's impressive day care system, which ranked No. 3. However, in regards to professional opportunities and work-life balance, the state was lagging – ranking No. 38 and No. 42, respectively. The state fell particularly short in its ratio of female to male executives, ranking No. 48 behind only South Carolina, Alabama and Utah.
See how our state compares below:
| Overall Rank | State | Total Score | Child Care Rank | Professional Opportunities Rank | Work-Life Balance Rank |
| --- | --- | --- | --- | --- | --- |
| 1 | Vermont | 63.93 | 1 | 2 | 11 |
| 2 | Minnesota | 60.23 | 8 | 4 | 7 |
| 3 | Connecticut | 58.17 | 12 | 37 | 1 |
| 4 | North Dakota | 56.34 | 7 | 16 | 14 |
| 5 | Massachusetts | 56.26 | 2 | 21 | 30 |
| 6 | Illinois | 54.42 | 9 | 13 | 22 |
| 7 | Wisconsin | 54.33 | 15 | 26 | 10 |
| 8 | Colorado | 53.64 | 10 | 14 | 27 |
| 9 | Kansas | 53.15 | 5 | 27 | 21 |
| 10 | New Jersey | 53.12 | 3 | 46 | 17 |
| 11 | Maine | 52.96 | 24 | 12 | 8 |
| 12 | Iowa | 52.81 | 22 | 11 | 13 |
| 13 | Tennessee | 52.48 | 11 | 9 | 36 |
| 14 | Virginia | 52.06 | 6 | 7 | 48 |
| 15 | Utah | 51.88 | 14 | 50 | 6 |
| 16 | Kentucky | 51.09 | 4 | 45 | 32 |
| 16 | Montana | 51.09 | 30 | 36 | 5 |
| 18 | New Hampshire | 51.07 | 16 | 10 | 34 |
| 19 | Washington | 50.13 | 32 | 15 | 9 |
| 20 | Nebraska | 50.08 | 29 | 8 | 19 |
| 21 | Rhode Island | 49.92 | 33 | 43 | 4 |
| 22 | Oregon | 49.82 | 40 | 30 | 2 |
| 23 | Delaware | 49.33 | 19 | 6 | 46 |
| 24 | Maryland | 48.86 | 13 | 5 | 51 |
| 25 | South Dakota | 48.79 | 28 | 19 | 18 |
| 26 | Wyoming | 48.3 | 18 | 49 | 15 |
| 27 | Ohio | 48.08 | 20 | 41 | 20 |
| 28 | Hawaii | 47.95 | 44 | 3 | 16 |
| 29 | Indiana | 47.75 | 23 | 33 | 26 |
| 30 | North Carolina | 47.64 | 21 | 25 | 35 |
| 31 | Arkansas | 47.02 | 26 | 20 | 31 |
| 32 | California | 46.75 | 47 | 18 | 3 |
| 33 | Texas | 45.7 | 17 | 38 | 42 |
| 34 | Missouri | 44.87 | 27 | 29 | 38 |
| 35 | Michigan | 44.78 | 34 | 31 | 29 |
| 36 | Oklahoma | 44.68 | 25 | 39 | 37 |
| 37 | District of Columbia | 44.5 | 41 | 1 | 50 |
| 38 | Pennsylvania | 43.28 | 36 | 35 | 33 |
| 39 | New York | 42.52 | 35 | 22 | 43 |
| 40 | Florida | 41.41 | 37 | 24 | 44 |
| 41 | West Virginia | 40.84 | 42 | 42 | 28 |
| 42 | New Mexico | 40.69 | 46 | 40 | 23 |
| 43 | Georgia | 40.43 | 31 | 32 | 49 |
| 44 | Idaho | 39.84 | 51 | 17 | 12 |
| 45 | Mississippi | 39.59 | 38 | 44 | 41 |
| 46 | Arizona | 37.5 | 45 | 34 | 47 |
| 47 | Alaska | 37.37 | 50 | 28 | 25 |
| 48 | Louisiana | 36.97 | 48 | 47 | 24 |
| 49 | South Carolina | 36.88 | 43 | 48 | 39 |
| 50 | Alabama | 35.94 | 39 | 51 | 40 |
| 51 | Nevada | 34.63 | 49 | 23 | 45 |