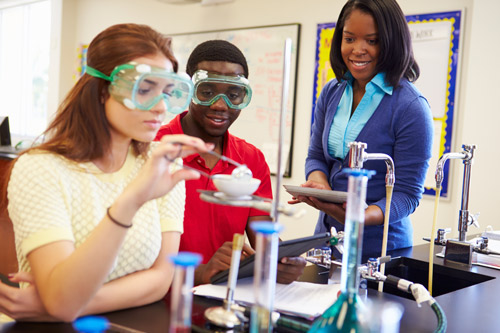 The nonprofit Children at Risk recently released its 11th annual Texas School Rankings, and of the state's top 10 high schools, four were in Houston.
In its list, the advocacy group ranked over 170 Greater Houston elementary schools on the basis of student performance, campus quality and improvements in standardized test scores, among other metrics. Through its analysis, the nonprofit found that DeBakey High School for Health Professionals in the Houston Independent School District was the top standout not only citywide, but statewide.
We took a closer look at Children at Risk's data and further separated its findings into rankings by county. Below, see the top 10 high schools for Harris, Fort Bend, Montgomery, Brazoria, and Galveston County.
Harris County
| School | District | State Rank | Overall Houston Rank | Letter Grade |
| --- | --- | --- | --- | --- |
| DeBakey H.S. for Health Professionals | Houston ISD | 1 | 1 | A+ |
| | Houston ISD | 3 | 2 | A+ |
| Eastwood Academy | Houston ISD | 7 | 3 | A+ |
| Challenge Early College H.S. | Houston ISD | 11 | 5 | A+ |
| Performance & Visual Arts H.S. | Houston ISD | 12 | 6 | A+ |
| YES Prep – Southwest | YES Prep Public Schools Inc. | 16 | 7 | A+ |
| Kerr H.S. | Alief ISD | 17 | 8 | A+ |
| Seven Lakes H.S. | Katy ISD | 21 | 10 | A+ |
| North Houston Early College H.S. | Houston ISD | 25 | 12 | A+ |
| Harmony Science Academy | Harmony Science Academy | 33 | 13 | A+ |
Brazoria County
| School | District | State Rank | Overall Houston Rank | Letter Grade |
| --- | --- | --- | --- | --- |
| Glenda Dawson H.S. | Pearland ISD | 84 | 27 | A+ |
| Sweeny H.S. | Sweeny ISD | 158 | 40 | A |
| Manvel H.S. | Alvin ISD | 530 | 82 | C+ |
| Pearland H.S. | Pearland ISD | 546 | 83 | C+ |
| Alvin H.S. | Alvin ISD | 760 | 109 | D+ |
| Columbia H.S. | Columbia-Brazoria ISD | 830 | 119 | D+ |
| Brazoswood H.S. | Brazosport ISD | 839 | 121 | D |
| Angleton H.S. | Angleton ISD | 847 | 122 | D |
| Danbury H.S. | Danbury ISD | 911 | 132 | D- |
| Brazosport H.S. | Brazosport ISD | 1035 | 146 | F |
Galveston County
| School | District | State Rank | Overall Houston Rank | Letter Grade |
| --- | --- | --- | --- | --- |
| Clear Horizons Early College H.S. | Clear Creek ISD | 10 | 4 | A+ |
| Clear Lake H.S. | Clear Creek ISD | 19 | 9 | A+ |
| Clear Springs H.S. | Clear Creek ISD | 71 | 25 | A+ |
| Clear Falls H.S. | Clear Creek ISD | 96 | 31 | A+ |
| Clear Creek H.S. | Clear Creek ISD | 198 | 49 | A- |
| Friendswood H.S. | Friendswood ISD | 206 | 51 | A- |
| Clear Brook H.S. | Clear Creek ISD | 237 | 57 | A- |
| Clear View H.S. | Clear Creek ISH | 647 | 98 | C |
| Dickinson H.S. | Dickinson ISD | 743 | 108 | C- |
| Santa Fe H.S. | Santa Fe ISD | 888 | 127 | D |
Fort Bend County
| School | District | State Rank | Overall Houston Rank | Letter Grade |
| --- | --- | --- | --- | --- |
| Clements H.S. | Fort Bend ISD | 23 | 11 | A+ |
| Dulles H.S. | Fort Bend ISD | 41 | 16 | A+ |
| Ridge Point H.S. | Fort Bend ISD | 64 | 21 | A+ |
| Stephen F. Austin H.S. | Fort Bend ISD | 69 | 24 | A+ |
| William B. Travis H.S. | Fort Bend ISD | 190 | 44 | A |
| Kempner H.S. | Fort Bend ISD | 207 | 52 | A- |
| Lawrence E. Elkins H.S. | Fort Bend ISD | 221 |  55 | A- |
| Hightower H.S. |  Fort Bend ISD | 555 | 85 | C+ |
| Needville H.S. | Needville ISD | 573 | 87 | C+ |
| Lamar Cons H.S. | Lamar CISD | 657 | 99 | C |
Montgomery County
| School | District | State Rank | Overall Houston Rank | Letter Grade |
| --- | --- | --- | --- | --- |
|  College Park H.S. | Conroe ISD | 103 | 33 | A |
| The Woodlands H.S. | Conroe ISD | 150 | 38 | A |
| Oak Ridge H.S. | Conroe ISD | 170 | 43 | A |
| Montgomery H.S. | Montgomery ISD | 191 | 45 | A |
| Magnolia H.S. | Magnolia ISD | 365 | 72 | B+ |
| Magnolia West H.S. | Magnolia ISD | 547 | 84 | C+ |
| Conroe H.S. | Conroe ISD | 594 | 89 | C+ |
| Caney Creek H.S. | Conroe ISD | 873 | 125 | D |
| Porter H.S. | New Caney ISD | 909 | 131 | D- |
|  Willis H.S. | Willis ISD | 938 | 137 | D- |