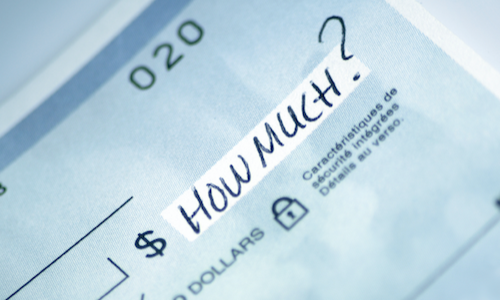 Average closing costs in Texas are among the highest in the nation, a new report from Bankrate confirmed.
The implementation of TRID, and its new closing disclosure form, has helped reduce confusion around what closing costs actually entail. But when agents are rounding out the closing process, some buyers can still be caught off guard by the additional costs – which regularly tally into the thousands of dollars.
In Texas, Bankrate found that a buyer closing on a $200,000 mortgage loan, with an assumed 20 percent down payment and "excellent credit," will face closing costs of $2,175 – $1,032 for origination fees and $1,143 for third party fees.
To see how Texas compares nationally, check out our table below.
| Rank | State | Origination Fees | Third-Party Fees | Total |
| --- | --- | --- | --- | --- |
| 1 | Hawaii | $1,207 | $1,448 | $2,655 |
| 2 | New York | $1,103 | $1,458 | $2,560 |
| 3 | North Carolina | $1,142 | $1,267 | $2,409 |
| 4 | Delaware | $1,047.00 | $1,311 | $2,358 |
| 5 | South Carolina | $1,134 | $1,187 | $2,322 |
| 6 | Connecticut | $1,066 | $1,248 | $2,313 |
| 7 | Georgia | $1,155 | $1,148 | $2,303 |
| 8 | Massachusetts | $1,056 | $1,216 | $2,273 |
| 9 | Alaska | $1,048 | $1,209 | $2,257 |
| 10 | California | $1,144 | $1,113 | $2,257 |
| 11 | Washington | $1,059 | $1,175 | $2,234 |
| 12 | New Mexico | $1,078 | $1,153 | $2,231 |
| 13 | Maryland | $1,180 | $1,049 | $2,229 |
| 14 | District of Columbia | $1,183.00 | $1,030 | $2,213 |
| 15 | Alabama | $1,062 | $1,127 | $2,189 |
| 16 | Maine | $1,064 | $1,121 | $2,185 |
| 17 | Florida | $1,123 | $1,057 | $2,180 |
| 18 | Vermont | $1,075 | $1,103 | $2,178 |
| 19 | Mississippi | $1,132 | $1,043 | $2,175 |
| 20 | Texas | $1,032 | $1,143 | $2,175 |
| 21 | West Virginia | $1,017 | $1,153 | $2,171 |
| 22 | New Jersey | $937 | $1,231 | $2,168 |
| 23 | Louisiana | $1,034 | $1,130 | $2,164 |
| 24 | Oregon | $1,091 | $1,065 | $2,156 |
| 25 | Virginia | $1,069 | $67 | $2,136 |
| 26 | Idaho | $1,053 | $1,055 | $2,108 |
| 27 | North Dakota | $994 | $1,114 | $2,108 |
| 28 | Iowa | $1,013 | $1,094 | $2,107 |
| 29 | Illinois | $1,080 | $1,000 | $2,079 |
| 30 | Rhode Island | $1,069 | $1,007 | $2,076 |
| 31 | Arizona | $1,063 | $1,009 | $2,071 |
| 32 | Tennessee | $1,108 | $959 | $2,068 |
| 33 | New Hampshire | $1,046 | $1,013 | $2,059 |
| 34 | Indiana | $1,065 | $992 | $2,057 |
| 35 | Montana | $1,016 | $1,026 | $2,042 |
| 36 | Ohio | $1,045 | $994 | $2,039 |
| 37 | Michigan | $1,049 | $989 | $2,038 |
| 38 | Minnesota | $1,033 | $997 | $2,030 |
| 39 | Nevada | $943 | $1,051 | $1,994 |
| 40 | Colorado | $1,057 | $933 | $1,990 |
| 41 | Wyoming | $982 | $1,007 | $1,989 |
| 42 | Kansas | $1,002 | $970 | $1,972 |
| 43 | Nebraska | $1,009 | $960 | $1,969 |
| 44 | Utah | $1,082 | $885 | $1,967 |
| 45 | Arkansas | $1,005 | $958 | $1,963 |
| 46 | Missouri | $1,000 | $926 | $1,926 |
| 47 | Oklahoma | $985 | $926 | $1,911 |
| 48 | South Dakota | $1,019 | $886 | $1,904 |
| 49 | Kentucky | $932 | $942 | $1,874 |
| 50 | Wisconsin | $1,010 | $853 | $1,863 |
| 51 | Pennsylvania | $1,057 | $780 | $1,837 |
| | National | $1,058 | $1,070 | $2,128 |