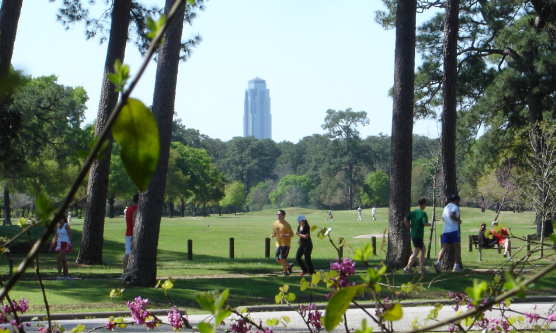 Memorial is one of Houston's hottest neighborhoods – if not the hottest. But its beginnings were humble. Before the construction of Interstate 10 in 1968, the land Memorial now occupies was mostly empty plots or farmland mostly used for horse stables. When development finally started, it wasn't rapid. Builders raised subdivisions along the Buffalo Bayou, which complemented the area's new schools and police and fire stations.
Today, Memorial is a rapidly growing destination neighborhood, and here's why:
1. It's safe – Memorial is the not only the safest neighborhood in Houston, it's the No. 3 safest spot in Texas, according to the latest FBI Crime Report. Violent crimes in the area number 0.34 per 1,000 people, while property crimes tallied 6.67.
---
Check out our story on the neighborhoods that will define the Houston of tomorrow.
---
2. There are spacious lots – Land in Memorial has a tradition of being parceled into large lots. And even after decades of development, land is still more available and inexpensive than in areas like River Oaks and Tanglewood, which has helped maintain the tradition of larger lot sizes – something buyers appreciate.
3. There are top-tier schools – Education in Memorial is top notch. The area has a number of top-rated schools, including Memorial High School and Memorial Drive Elementary School – the latter of which has had such an impact on attracting homebuyers that surrounding median home values are currently at $2.4 million, according to HoustonProperties.com.
---
Check out our story on the top high schools by graduation rate in Harris County. 
---
4. It's fun – For all the practical benefits of Memorial – its schools and spacious lots, etc. – there's something else that locals love. The area has many recreational opportunities: the CityCentre Plaza, Memorial City Mall, the Broadway Bound Performing Arts Centre, restaurants and parks. The neighborhood even has an iFLY, where patrons can enjoy the simulated experience of skydiving. It's one of the reasons Houstonia Magazine named Memorial one of Houston's 2016 "Hottest-of-the-Hot" neighborhoods.
5. Its best years are ahead of it – Memorial is what you'd describe as an up-and-coming neighborhood. It's still growing and attracting new businesses, and what happens today will be the foundation of the neighborhood tomorrow.