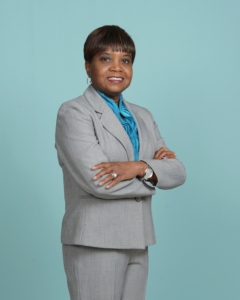 Name: Sarah Lee Boson
Title: Broker/Owner
Company: Sarah Lee Properties
What was your first job in the realty industry? Real Estate Agent
Where did you grow up? Dime Box, TX
Growing up, what did you want to be? A nurse
What do you do to relax when you're stressed? Exercise or sew
If you could have lunch with a well-known figure (living or not), who would it be and why? Michelle Obama
Where is your favorite place to hang out? Gym
What do you love most about the industry? Flexible work schedule and no pay limit
How do you distinguish yourself from the crowd of agents? I always put the client first and also appeal to the customer.
What is the most difficult aspect of your job? Not being able to help everyone, especially those that may have a wish and want to buy a house, but finances do not allow them to.
Where do you go to network and meet new clients? Church, gym, grocery stores, shopping mall-everywhere I encounter someone to talk to.
What has been your greatest accomplishment? Being able to start my own business. I opened my own brokerage in June 2016.
What was the last good movie you saw or book you read? The last good book I read was The Shack by William Paul Young.
What is your favorite restaurant? Red Lobster. I love sea food and I am simple, no frills.
Architecturally speaking, what is your favorite building in Houston? Wortham Theater Center
What kind of car do you drive? Toyota Avalon
Smartphone or paper? Smartphone and paper!
What is your favorite city after Houston? Austin
In 10 words or less, what is your advice for someone new to the industry? Honesty and integrity always wins over everything else.
What's your favorite real estate iPhone/Android app? Anything to help me with my real estate business – financial, market analysis, comparative analysis
Who are your favorite people to follow on Twitter? Michelle and Barack Obama!