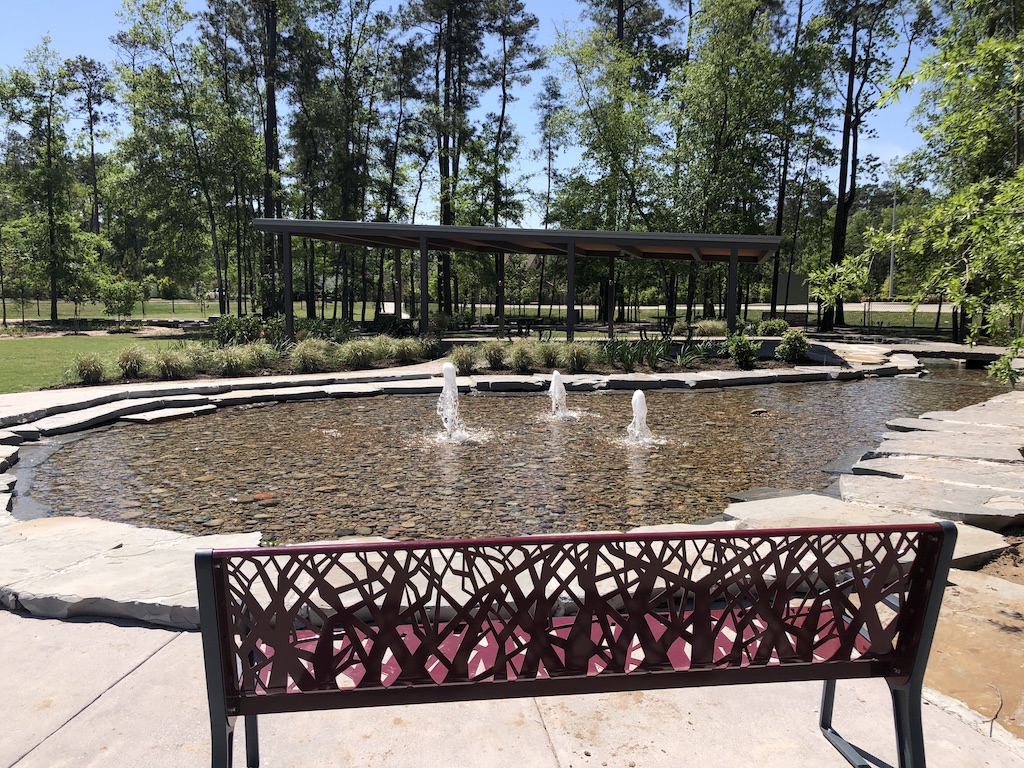 Mature trees are the backdrop for open spaces, winding trails and sparkling lakes at Grand Central Park in Conroe, Texas — a new, mixed-use, master-planned community that includes luxury homes by award-winning Johnson Development Corporation. Grand Central Park pairs new construction and modern conveniences with nature in a prime Montgomery County locale, minutes north of The Woodlands and close to several employment centers, such as the Exxon Mobil corporate campus and the George Bush Intercontinental Airport. Children living in the community will attend the acclaimed Conroe Independent School District, a big draw for families looking to establish roots in the area.
"When buyers come to Grand Central Park, they get a feeling of getting away from the hustle and bustle even though the community is at I-45 and Loop 336," said Bob Douglas, vice president of development for Grand Central Park. "Our forested setting has a lot to do with that."
Historic land
Situated on the former grounds of Camp Strake, a beloved Boy Scout camp for more than 70 years, Grand Central Park combines residential, commercial and retail space on 2,100 acres of forested land, creating a unique opportunity for first-time, move-up, luxury and empty nester clients.
"Many homebuyers have camped and fished in this area for years as kids," said John Courtney, market manager of Grand Central Park for Drees Homes. "I have heard many campfire stories from not only some new homeowners but also people who come through my office considering a new home in an area they know so well."
Luxury townhomes, patio homes and single-family residences, priced from the $200,000s to $600,000 plus, are brought to you by eight award-winning homebuilders: Lennar, Village, Coventry, David Weekley, Perry, Darling, Jaeger and Drees. Most of the high-end homes back into greenspaces that won't be developed. They also come with smart home automation, allowing residents to remotely lock and unlock doors, turn lights on and off, adjust the thermostat and see who's knocking at the door, all from their wireless devices.
Built-in amenities
Nature awaits homeowners, just steps outside their front doors. Your clients might want to explore Deer Lake, a 12-acre fishing pier; or perhaps take in the beauty of Trillium Park's babbling brook and landscape architecture while picnicking under the shade pavilion. New transplants can get to know their neighbors by attending any number of regular events coordinated by the "director of fun."
"The culture at Johnson Development revolves around creating neighborhoods with a purpose," Douglas said. "Our communities are where families raise their children and make lifelong friendships with neighbors. We take that responsibility very seriously."
Shopping options abound at 336 Marketplace, offering Kroger, Home Goods, Michaels, Ross and Marshalls within a short walk from the community. Also included in the plans for development is a town center that will likely offer shopping, restaurants and professional buildings just a bike ride away.
Coming soon
This year, Johnson Development will add Twilight Park, a playground with fitness trail and work-out stations; Mystic Pond fishing pier with café lights, fire pit and gazebo; and Frisky Biscuit Dog Park where furry friends big and small can frolic leash-free.
In 2020, the company plans to open a 13-acre lake house amenity complex featuring a resort-style pool; fitness room; yoga and event lawn; party room with kitchen; playground and freestanding pavilion for special events and resident gatherings.
The Grand Central Park development is part of a larger vision for the company, according to Douglas. "Johnson Development strives to elevate the concept of master-planned living, whether that's creating Houston's first community with an on-site farm in Fort Bend's Harvest Green, setting a new standard in aquatic recreation as we did with Sienna Plantation's Club Sienna, or acquiring a storied property such as Grand Central Park," he said. "It really goes back to the basics—developing communities with quality amenities, respected builders, top performing schools and locations near employment centers. It sounds easy, but it's hard to find properties that check all the boxes and sometimes that just means waiting for the right opportunity."
Options for every stage of living
Kyler Ferris and his wife Kim couldn't wait to buy a townhome at Grand Central Park. In fact, they bought the first one they saw. "As a real estate professional, I knew what we wanted," said Ferris, realtor associate with Martha Turner Sotheby's International Realty. The couple jumped right in after Ferris sold his mom a home in the community. They were sold on the quality of the home itself; the opportunity for their future children to explore, camp and learn in the woods like the Boy Scouts of yesteryear; the community events that have already brought them closer to neighbors; the proximity of Conroe Regional Medical Center across the street and commercial tenants that are likely to increase property values.
"Our home has probably appreciated $10,000 in four months," Ferris said, noting that their neighborhood is a mix of young couples and empty nesters. He pointed out that the low-maintenance townhomes appeal to first-time homebuyers, as well as people looking to downsize, who desire luxury features but don't want a lot of upkeep. Ferris also added that the fact that all new homes come with warranties and incentives from builders is an added bonus.
Drees is already selling a new 55-foot home section offering single-story plans between 2,100 square feet and 2,900 square feet with multiple options, such as independent living suites with kitchenettes for empty-nesters taking care of aging parents.
"Our philosophy is a buyer's home is more than just a dwelling; it's an expression of who they are," Courtney said. "We take the time to learn what our customer's wants and needs are, and we try to deliver those with honesty, good communication and a seamless process."