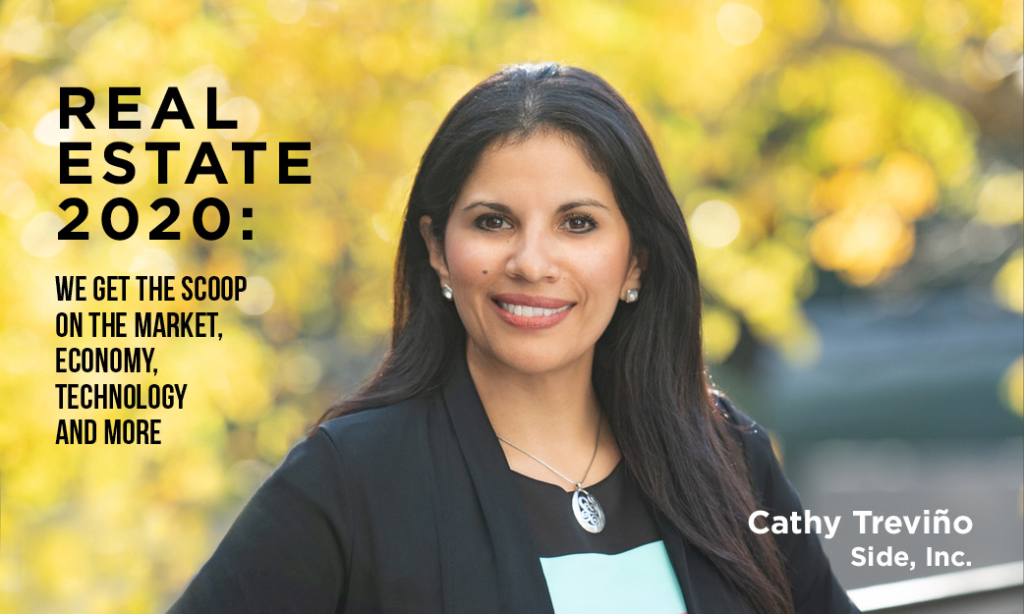 It's almost 2020, if you can believe it, and the future of the real estate industry is, perhaps, more uncertain than ever. Agents not only will contend with the potential of rising interest rates and an economic recession ­– the presidential election next year and continued rise of iBuyer companies and other new technologies will further contribute to the reshuffling of the deck for those in the industry.
We caught up with some of Houston's real estate industry leaders to help us read the tea leaves and predict what the market will bring in the coming year. Without further ado, we'll leave it to the experts to tell the story.
The Market
Will 2020 be a buyer's market? Why or why not?
Julie Brann [Bernstein Realty]: I think 2020 will continue to be a buyer's market, since there is currently a lot of inventory. I also think a lot of that depends on the oil and gas industry. That industry seems to drive a lot of home purchases. I'm noticing a lot of relocating employees are looking to rent my listings; a few years ago, these might have been buyers. I think companies appear to be taking less risk than they used to.
Chance Brown [CB & A Realtors]: It depends on how you look at it. From an economist's view, one to four months of inventory is a seller's market. From that standpoint, I don't believe it will be a seller's market. I believe two camps will emerge: those who prepare and price their homes to sell and those who think it's still 2017 and they can put their home on the market and three days later it will sell even though they left their underwear on the floor. That last group will have a tougher time selling.
Sherry Campbell [Energy Realty]: We have been in a buyer's market since 2016, so I anticipate that we will come out of it in 2020 and move into a seller's market by the end of 2020.
Lisa Iglesias [Keller Williams, Houston Properties Team]: For majority of Houston it will still be a seller's market, but we're seeing it less and less so each month. For instance, Houston home inventory is at four months. A balanced market has around five to six months of home inventory. However, five years ago Houston's home inventory was only at 2.7 months. Already we're seeing gaps between how sellers and buyers view the market and it's creating problems. With Houston real estate being hyperlocal, the answer varies for each specific neighborhood. I expect home sales in quality locations to perform well. Whenever turbulence arises, we have a flight to quality. I don't think that we'll see "screaming deals," but I think we'll have more willing sellers and there will be opportunities for buyers to pick up things in a lull before things heat back up. The stock market, China and upcoming political theater have created (and will continue to create) a lot of drama. I believe the buyers who focus on the fundamentals (good locations, with land, zoned to top-ranked schools with quality layouts) can purchase attractive, long-term investment options.
Where will the hottest communities and neighborhoods be in 2020?
Chance Brown [CB & A Realtors]: So much of what happens in the Houston market is based on job creation but overall, I still think the safe money is always going to play into the bigger communities. If you look at the data, smaller pocket communities suffer the most when the market changes. Where there's doubt when it comes to someone's largest financial asset, I tend to play it safe and steer them towards bigger master plan communities. You're going to see a lot of development on the east side. The millennial generation is shaping the market in ways we haven't seen.
Lisa Iglesias [Keller Williams, Houston Properties Team]: Close-in Houston neighborhoods with strong appreciation rates the past 10 years will continue to perform well. Smart buyers and investors will always be drawn to areas with strong track record. We also expect top neighborhoods near Texas Medical Center (or with good MetroRail access to TMC) to post very strong growth numbers in the next 10 years. Around $5 billion worth of health-care related projects are currently underway in the area, and health care jobs are projected to double within the next decade. Well-developed suburbs should continue to appreciate well. Areas like Katy, Missouri City, Pearland, Sugar Land and Spring posted very strong land value appreciation rates last year. These suburbs have grown large enough where buyers were willing to pay more for certain lots in prime, non-flooded locations, zoned to top-ranked schools.
Kent Puckett [Caldwell Communities]: North and Northwest Houston-acclaimed school districts like Cypress-Fair Independent School District and the completion of highway 290 construction make Cypress communities like Towne Lake desirable locations. Communities in this area are easily accessible and provide just a short commute to major corporate campuses. Growth in Conroe and migration north is making communities like Chambers Creek Ranch an attractive place for those seeking a highly-amenitized active adult community, but in close proximity to the airport, major medical and grandkids.
Julie Brann [Bernstein Realty]: I would say some of the hottest communities in 2020 will be the Heights area EaDo. All of my 20-something clients are looking in these areas since they're close to town and amenities.
Technology
What new technologies will your company be adopting over the next year?
Chance Brown [CB & A Realtors]: We are actually using technology to get back to some of the basic things we used to do – deepening relationship building. One of the reasons why there's pressure on agents is because we are frankly pretty bad at telling our clients what we do for them. So we are using technology to build value in ourselves. At every phase of the transaction, we want to make sure our clients know what we're doing for them and communicating that in a way that people want to be communicated with by keeping it short and sweet.
Lisa Iglesias [Keller Williams, Houston Properties Team]: One of the first things that comes to mind is Keller Offers, which has just rolled out in Houston. It allows clients the best of both worlds: the convenience of a "one easy button" approach, and the expert advice and insight of a real estate professional. In the Houston Properties Team, we also have proprietary market research tools and home value calculators. This platform allows us to easily pull data and comparisons for any location, property type, housing segment, etc. Today, 93 percent of buyers say websites are their primary source of information during their home search. Fifty percent of buyers say they found the home they purchased online first. We recognize this trend and have been incorporating tech in every single facet of the business.
Cathy Trevino [Side]: We at Berkshire Hathaway HomeServices Anderson Properties will have our new CRM rolling out and available for all our agents to use. This will be a place where agents can easily manage all their contacts, events and tasks.
What impact do you see iBuyers having on the Houston real estate market over the next year?
Chance Brown [CB & A Realtors]: iBuyers have always been around. The real estate community needs to focus on the things iBuyers bring to the transaction: speed, certainty and convenience. How can an agent deliver those things? Are we setting proper expectations? Are we telling them what the data says? Agents need to be familiar with the iBuying product, and they need to be able to communicate that option to a client: "You can sell it in 90 days or lose $50,000 right now." I've had clients where iBuyers made sense. My neighbors needed to sell their home quickly and were willing to take a hit. iBuyers are not for everybody, but agents still need to know about them. On the other hand, iBuyers will never take over the higher-end market. They just don't have the margins for it.
Sherry Campbell [Energy Realty]: While iBuyers have taken over 10 percent of the market, I think iBuyers will only appeal to homeowners who do not look at their home as an investment and just want to move on with no hassle. iBuyers do not typically purchase homes over $300,000 so this market should be unaffected. It is becoming more important for brokers to be professionals and offer the right guidance and advice to "guarantee" the sale of the home.
Lisa Iglesias [Keller Williams, Houston Properties Team]: As we have seen in other markets, the iBuying industry should have a significant impact on the real estate industry. The business is shifting, and agents have to develop their business in order to survive. iBuying is an excellent tool and should be a primary option for a good percentage of buyers and sellers. The operative word there is "tool." Good agents who have strong market knowledge, mastery of the nuances of the Houston market, and strong systems in place for contract and administrative management will continue to thrive. Those who can harness iBuying as a tool and a solution for some of their clients will have an advantage. As we're seeing in other locations with active iBuying operations in place, real estate professionals who can provide expert-level advice with a customized approach built on strong personal relationships will remain on top.
Cathy Trevino [Side]: I believe that we will see more iBuyer transactions in the Houston area, but I do not believe they will consume our market. Many of the iBuyer companies are pretty competitive with their offers so I do not believe they will affect pricing too much but will give sellers the opportunity to utilize their services should they need it.
How are tech changes going to affect the day-to-day business of agents and brokers?
Chance Brown [CB & A Realtors]: My hope would be that whatever tech changes that come out are, number one, used to serve the client and service their needs better, and, number two, are tools that make the agent's job easier and more efficient so they can to work on generating more leads to move their business forward.
Lisa Iglesias [Keller Williams, Houston Properties Team]: People are more concerned about the process than the actual purchase. The home search is stressing buyers more than having the means to buy a home. Most of the tech changes we're seeing recently are looking to address this. iBuyers are looking to make the transaction faster and easier and home search websites are becoming smarter and easier to use. Agents and brokers need to successfully incorporate the same tools and processes into their day-to-day workflow. Making things easier for clients while also providing smart insights is how we can best add value.
Politics and the economy
Do you expect the economy to help fuel the housing market in 2020? Why or why not?
Chance Brown [CB & A Realtors]: A lot of people are predicting a recession. I'm not sure I buy that, but if it happens, I don't think it's going to be a housing recession. We don't have an affordability crisis, so I think that the housing market will not be affected, as long as we continue to create jobs.
Sherry Campbell [Energy Realty]: Although economists are warning of a national recession in 2020, Houston's economy is typically on a different cycle than the rest of the nation, driven predominantly by oil prices. Although prices are still fluctuating due to a slowdown in demand and fear over what is happening in China and the Middle East, as long as we stay above $45 a barrel, oil companies are still profitable. We saw more relocation activity in 2019 than we have seen in 3 years and many of the major oil companies and oil service companies are hiring again. Although Houston's economy is not 100 percent reliant on oil companies, according to ABC 13, 45 percent of Houston's jobs rely on oil. While oil companies have become more conservative in hiring and spending, they have stabilized, and as they hire again, the housing market will follow.
Melinda Gordon [Bernstein Realty]: One of the ways that the economy fuels the housing market is with new-home construction starts. Per the National Association of Home Builders, the housing supply will continue to remain tight unless new-construction job growth accelerates to more than the current annual pace of four percent. It appears that new construction will not grow enough to make up for the shortfall in housing needed based on household formation and for replacement of obsolete or demolished housing.
Lisa Iglesias [Keller Williams, Houston Properties Team]: Unlike in the past, Houston's local economy is lot more diverse and a lot less dependent on oil. Healthcare, construction, manufacturing, accommodation, food services and retail industries made up the bulk of the jobs created the past year. Over 92,000 people moved to Houston last year, and we're adding more than 250 new residents each day.
Kent Puckett [Caldwell Communities]: Keeping conservative elected officials will help the economy as they typically promote lower overall taxation and reduced business interference by governmental authorities. Conversely, those with social agendas tend to increase taxation on all people, particularly those with higher incomes, thus penalizing the very people that produce majority of jobs.
Cathy Trevino [Side]: If interest rates continue to stay low, the market will continue to thrive. And 2019 looks to be another record-breaking year according to HAR statistics.
What impact do you think the 2020 election will have on the economy and/or real estate market?
Sherry Campbell [Energy Realty]: Election years typically do affect the housing market as fears over the results of the election affect home buying decisions. I have never understood why there is a fear that there will be any drastic changes that affect homeownership, but as we near the election, we could see the market slow down. I predict that we will see the market pick up momentum in January 2020 and last through the summer. By August, the market could slow down until after the elections.
Melinda Gordon [Bernstein Realty]: In my opinion, typically there may be uncertainty in an election year. Although mortgage interest rates are at an all-time low, this is not enough to encourage some buyers. Currently, millennials make up the biggest percentage of new home purchases and many prefer to rent. I think the market will remain stable but not have as big of growth until after the election.
Lisa Iglesias [Keller Williams, Houston Properties Team]: Houston real estate is hyperlocal, and if we go by the trends of the previous election in 2016, there shouldn't be any significant impact. Back in 2015, economists also predicted a slowdown due to falling oil prices and resulting energy industry layoffs, and the then-upcoming election. However, the Houston housing market held steady throughout 2016 and had a record-breaking year in terms of home sales.
How can agents prepare to deal with a changing economy?
Lisa Iglesias [Keller Williams, Houston Properties Team]: Agents need to develop a strong "adopt and adapt" approach heading into 2020. With technology and easy access to information, buyers and sellers are a lot more intelligent. They have a fundamental understanding of how the market looks, what typically happens in a transaction, and where they need help. If an agent doesn't have the experience and tools that will allow them to add value on top of what the client can find online, they will have a hard time surviving in the business. Furthermore, the counterpart of any tool or platform is the lack of human empathy. There will be a significant part of the market that will always look to real people with expertise and care. Agents who can establish strong relationships with clients will continue to buckle any industry shift due to economic changes and technological advancements. Finally, there are so many proven tools and systems that make real estate transactions more manageable. Agents who continue to build idiot-proof processes with high efficiency and accuracy will in turn be more reliable and consistent — two things that clients value.
Cathy Trevino [Side]: Agents need to stay connected and educated in their market. Technology is changing the industry and agents need to get ahead of it and learn how to use the tech tools that will make doing their business easier. Staying connected means going to industry and educational events. Education is power, so I would encourage agents to learn as much as they can when new tools roll out within their company or association so they are prepared and equipped to provide their clients with the best experience they can give.
Development
What would you like to see the industry or officials do to mitigate challenges to housing and development, especially with regards to flooding issues?
Julie Brann [Bernstein Realty]: I would definitely like to see industry and officials work together to mitigate flooding issues. We've had a number of rain events over the last few years, and I know so many people who have been affected by the result. It has had a negative impact on areas that flooded.
Kent Puckett [Caldwell Communities]: Cleaning out the bayous and expanding capacity in the Addicks Reservoir in conjunction with flow timing to determine detention or immediate release (or hybrid thereof), would be one solution as it relates to developing a parcel within a particular watershed.
Chance Brown [CB & A Realtors]: I would love to see someone in some level of government put something together where we have a regional drainage plan that developers have to tie into. Let's be honest – we live in a swamp. The neighborhood I live in is a little over three years old. Harvey brought 46 inches of rain and we barely had any water in our street because of the great drainage and because we're built up a little higher, so the water rolls down to the other neighborhood. But I'm not naïve enough to think that the next neighborhood built up higher isn't going to flood my neighborhood.
Lisa Iglesias [Keller Williams, Houston Properties Team]: Flooding is an integral part of the Houston housing market. It's a reality, and we do clients and ourselves a disservice by dancing around it. For agents, candor is key. If you have genuine care for the client, you will be candid about all the pros and cons of a specific property, flooding issues included. It may hurt sales in the short term, but clients who received honest feedback tend to be happier with their decision and by extension the agents who helped them arrive at it. This leads to more referrals and repeat business. When agents help buyers find homes in good locations built by reputable builders, it raises the bar for everyone. This translates to fewer projects or more flood-proof homes in flood-prone areas.
New opportunities
What will be the biggest challenges and opportunities for agents, lenders and brokers in 2020?
Chance Brown [CB & A Realtors]: I think one of the challenges is public perception of the agent and the role they play. We're taking steps in our brokerage to battle that. At the same time, the opportunity is in taking those perceived threats and really being able to communicate your value to clients. For example, clients should understand that if they don't have someone representing them, they might not know what they're looking at when they look at a contract. Realistically, most people aren't capable of that. This is where the vast majority of agents really fail in communicating to their clients.
Sherry Campbell [Energy Realty]: There are so many interrupters in the industry besides iBuyer programs that are forcing agents and brokers to step up their game and offer more expertise and advice to clients to justify the commission they are earning. We no longer sell houses by simply putting a house on MLS; we have to find more creative ways to market homes and bring buyers. We truly have to become marketing experts as well as contract negotiators. The industry has made it easy for anyone to get a license, but I think that agents will have to go above and beyond the standard education in order to compete in this industry. As a broker, I am being challenged to improve my technology tools, and I am preparing to launch an integrated system combining the CRM, transaction creation and transaction management to help my agents stay more productive and efficient.
Lisa Iglesias [Keller Williams, Houston Properties Team]: It's not uncommon for agents and brokers to deal with uncertainties brought forth by political, economic and, recently, climate changes. In the Houston Properties Team, we always deal with this on a case-by-case basis, and we heavily use data to provide clients with the best solution for their needs. Take the recent flooding issues, for example. With the memory of Harvey, Imelda and recent flooding still fresh from everyone's mind, buyers are generally more wary and more informed about the risks of buying properties in flood-prone areas. Smart buyers know that even if an area has a history of flooding, there are pockets of neighborhoods and subdivisions that remain relatively flood-free. There are good deals to be found in these locations as the general trends affect how high the seller or builder can price the home. A good agent can overcome the uncertainties that come along with this issue and provide solutions that help clients get the outcome they want. The biggest challenge for agents and brokers in 2020 is handling uncertainties while providing the expert-level insight and value that smarter buyers today are looking for.