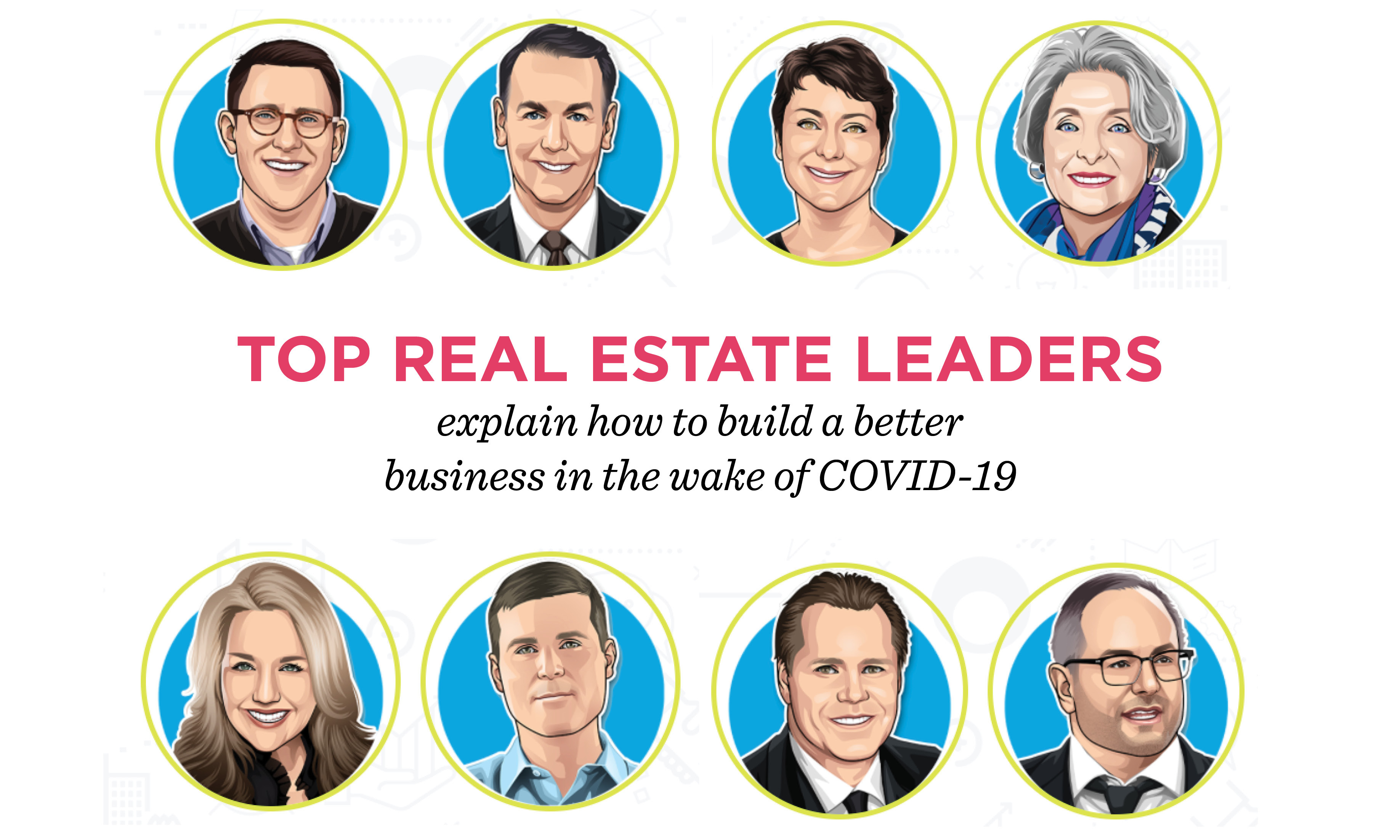 There's no denying that the challenges that have rocked our world in the past few months have had an indelible impact on real estate. Now that the industry has been steeped in the new reality caused by the coronavirus pandemic and other societal challenges, what have we learned?
That question was one of the driving forces behind a new e-book published by real estate tech firm MoxiWorks titled, "Grit Unlocked: The Handbook for Growing an Unstoppable Real Estate Business." The company reached out to a number of top thinkers and leaders in real estate to offer advice for how agents, brokerages and brands can emerge from these trying times with smarter, leaner and more innovative businesses. Here are a few of their recommendations.
See the role of real estate in the larger recovery
While it's important to recognize that there are a lot of other industries that are hurting more than residential real estate, keeping in mind its influence on the greater economy can help agents and brokers move forward with purpose.
The National Association of Realtors estimates that each home purchase contributes about $60,000 to the economy, and that one job is generated for every two home sales. That may be why Jeff Detwiler, president and CEO of real estate firm Long & Foster, encouraged readers to keep the country's fiscal health in mind during times of crisis.
"Nothing has a greater impact on fueling the economic engine than the real estate industry," he said in his contribution to the book. "It's important to remember we all have a responsibility to our economy and our country to keep the top of the funnel full with real estate transactions. As we move into a recovery period, we need to ensure we've got transactions generating dollars into the economy."
Learn from competitors
Much as now is a good time to step back and see the place of real estate in the larger picture, it's also important to see how your real estate business fits in with the landscape of other local real estate professionals and companies. But aside from competitive analysis, there are also some important cooperative lessons that can be gleaned.
As the CEO of Leading Real Estate Companies of the World, it's part of Paul Boomsma's job to bring together a wide network of 550 real estate companies. As a result, he's seen the benefits of getting multiple viewpoints on intractable problems.
"Diverse perspectives can be eye opening," he said. "I see companies of different profiles learning from one another – urban and rural, big and small. Our large brokers set the bar high when it comes to implementing systems, and we can gain insights from what they have achieved in terms of growth. Smaller companies may have more flexibility in launching innovative new technologies or marketing in bold ways, and there are lessons there."
Start a chain of thankfulness
Many of the leaders who contributed to the book acknowledged the fatigue that's set in for those working in this difficult environment. While set routines, plenty of sleep and exercise were high on the list of recommendations for readers, Gino Blefari had a concrete activity to suggest that was unique among the other writers.
When the COVID-19 pandemic was first declared, Blefari — the CEO of HomeServices of America and chairman for Berkshire Hathaway HomeServices, Real Living Real Estate and HSF Affiliates LLC — already had one "gratitude partner" with which he would habitually share something he was thankful for.
"The simple act of thinking about and sharing what you're grateful for can shift your entire mindset toward optimism," he explained. As the number of people he saw on a daily basis shrank thanks to stay-at-home orders, Blefari expanded, rather than drawing inward. "Now I have nine people who I check in with daily; I send them a text with the one thing I'm grateful for that day that randomly pops into my head — it can simply be the sound of birds chirping outside as I get up in the morning — and they send me their 'gratitudes' in exchange."
Don't see new tech as a stop-gap measure
Real estate companies everywhere have had to implement new technologies and procedures in order to carry on business under lockdown. Stephanie Anton, who leads strategic direction and operations for the luxury marketing division of Leading Real Estate Companies of the World, encouraged readers to not think of the changes they're making as temporary, since most real estate clients certainly don't.
"Once we leave the crisis behind, I believe buyers and sellers will still expect the same level of marketing, production and technology that has arisen with the pandemic. Buyers, especially, will no longer accept a mediocre website, ordinary search experience or limited information," she said. "This momentous time has proven that embracing new ways of doing things can make us better. Emerging from this, I think we will become leaner, more agile, more efficient, and all around a better, stronger industry."
Managing brokers have to think about the rollout of new technology in a larger way. DeAnn Golden, senior vice president at Berkshire Hathaway HomeServices Georgia Properties, said the way companies have traditionally introduced new tools to agents results in a three-tiered usage pattern among agents: "You'll find a portion who will readily grasp the technology, a portion who will somewhat use the new product, and another who will simply not adopt the product at all."
But with their most recent tech launch, she said her brokerage achieved 100% adoption. They did this by creating a company-wide adoption plan that involved every part of the business, from the top down.
"Our CEO, Dan Forsman, was extremely entrenched in the planning, launch, adoption and continued use because of his great confidence that it would have a significant impact on our business. He learned the product and demonstrated its power, often sending presentations and encouraging all other leadership to do the same," she said. "Early adopter agents also led the charge in training their peers. Having already laid the foundation of a culture ready to learn from our emphasis on company-wide education and training, the transition was that much smoother."
Figure out what your brand stands for and who can best represent it
Though it might not feel like it, Brian Boero, co-founder and CEO of real estate creative agency 1000watt, told readers now is the perfect moment to rebrand.
"There's never been a better time," Boero said. "In this environment, small moves to strengthen your brand and put it into the world through marketing will have outsized returns. Marketing moves that returned two times will return 10 times. That's the opportunity in the recovery. Use this moment of clarity to revisit what your brand means at its core."
At a time of uncertainty, it might be tempting to bring on anyone who can help, but Michael Saunders encouraged real estate leaders to be selective. The founder and CEO of Michael Saunders & Company in the Florida Gulf Coast region noted that it's just as important to define your brand promise as it is the people who will help you fulfill it.
"One must consider who they invite into that family business and if they are the right people, willing to make that vision theirs and carry the torch. That means everyone we hire to work for our company must be aligned with our vision and values. It means every agent we recruit must embrace our culture and deliver at every turn," she said. "As long as we maintain our sense of integrity, excellence, mutual profitability and communication — our core values — we will emerge as a trusted entity."
Make time to contemplate and listen
When crisis hits, real estate professionals often snap into problem-solving mode. But President and CEO of Coldwell Banker Ryan Gorman said one lesson this particular challenge has taught him is to take a moment first.
"I've begun time blocking by taking a two-hour walk every morning as the sun rises and before my household awakens. That has been a game changer for me and has inspired even more creative thinking across the team," he said, adding that this wasn't an easy shift for him to make.
"It's hard for me to make time for myself; it has never been my strong suit. I'm wired to be responsive and of service. I've had to reframe this concept in my own mind as making time for my people by making time for solo contemplation."
Similarly, many real estate professionals have scripts and responses to rapidly answer common questions and objections. But COVID-19 has challenged that. Matthew Ferrara, a consultant and keynote speaker in the real estate industry, noted that there are a few ways to draw people into more meaningful conversations in times of crisis.
"Questions are the heart of listening. Simple questions help you understand what your team needs to hear. What's on your mind? What are you worried about? And then, always ask a follow-up: Anything else? Sometimes, you have to give permission for people to go a little bit deeper," he said. "You can be a good listener by hearing both the words being said and the emotions behind those words. Then, you listen for what is not being said."
And, while it may feel uncomfortable to reach out to past clients right now, Georgia Perez, vice president of business development at MoxiWorks, said it's vital to make these connections. "We've heard many agents are hesitant to pick up the phone and call people in their sphere, especially during times like this," she said. "But they can always call and talk about anything besides business. 'How are you doing? Is your family OK, is your health OK, how's your job?' Being there, even as just an ear to listen, can really go a long way."