Many Houston residents don't want their neighborhoods to resemble big-time cities such as New York, Chicago and Miami, all of which have several high-rises within the downtown areas. Houston, in fact, is outraged by developer's plans to build a 23-story building on the 1700 block of Bissonnet at Ashby, according to the Houston Chronicle. Residents fear that this could be the beginning of a trend of building high-rises on neighborhood streets.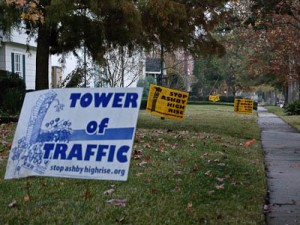 A hearing regarding a proposed ordinance on high-rise development (structures over 75 feet, or seven stories) is scheduled for 2:30 on Thursday, July 21 at the City Hall Annex; the proposal may be voted on as early as August. Among the issues of concern are desires for more space between the tower-esque buildings and single-family homes.
Developers would be required to leave a 50-foot buffer on the sides of buildings adjacent, or within 30 feet of single-family homes or land earmarked for single-family development; within the buffer, 10 feet of landscaping, trees, and an 8-foot-tall masonry wall would be required, according to the proposal requirements. Further stipulations restrict mechanical equipment or covered parking from residing in the buffer zone, and taller parts of the building must also be set further back than the ground floor, according to the Houston Chronicle.
Only buildings in eight designated zones would be allowed to stray from the pending requirements. These areas are as follows: "downtown, the Galleria area, Beltway 8 at Westheimer, Greenway Plaza, the Katy Freeway at Highway 6, the Texas Medical Center, Greens­point, and the Katy Freeway inside the Beltway."
"There are places in the city where we want to see growth happen. These activity centers are appropriate for high-rise buildings," said Michael Schaffer, deputy director at Planning & Development to the Houston Chronicle. "Perhaps this is a way to suggest those are good locations for them and to keep taller buildings out of neighborhoods."
The primary root of this proposal-the Ashby high-rise is still tied up in court and its developer, Buckhead Investment Partners, has since sued the city for over $40 million due to "repeated denials of its permit application," even after the city approved one of the permits which was needed to kick off construction of the project.
Despite outrage over the Ashby project, the developer does not expect the ordinance, even if it's approved, to impact his project. "We have an approved set of plans and still have an application with the city," said, Kevin Kirton of Buckhead to the Houston Chronicle.