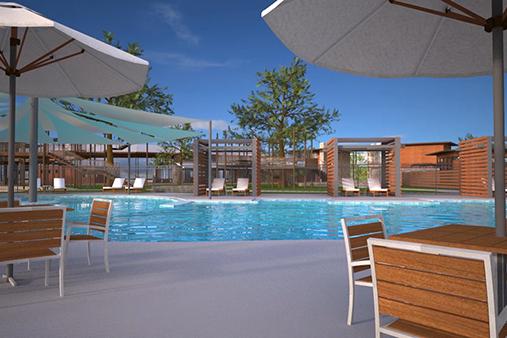 A new master-planned community is coming to the new Cane Island Interchange in the form of a 1,000-acre community with several unique amenities, including a canine ambassador and Bellagio-style conservatory.
A Las Vegas-area developer that is moving to Houston in 2015, Rise Communities LLC, announced plans to develop Cane Island, which is currently under construction. With the presence of strong jobs and great school districts in Houston, the Henderson, Nevada-based developer began purchasing the undeveloped land from the Katy-based Minze family in 2011, said Dan Naef, president of Rise Communities.
The Minze family, which owned the former rice farms for more than 60 years, traveled to Las Vegas and toured several luxury communities that were developed by Naef and his executive team when they were with American Nevada Co., another Henderson, Nevada-based real estate developer. The family members were "very impressed" with the Green Valley and Seven Hills communities, and sold the land to Rise Development for about $27,000 an acre.
"They were very interested in finding a developer who they thought would make them proud and the city of Katy proud," Naef said.
Unique Amenities
Rise Communities broke ground on Cane Island on Nov. 19, with plans to build 2,000 traditional and luxury patio homes priced from the $200,000's to the millions. Cane Island will feature many of the amenities Houstonians have come to expect from master-planned communities, including a welcome center, fitness center, yoga space, multipurpose space, outdoor cafe and pools.
Several unique amenities will also be introduced to attract new homebuyers to Cane Island, including a canine ambassador, a Golden Retriever named Hub after the land for Cane Island, which was the former hub of the rice farming industry in Katy.
Hub will have his own Facebook page and business cards, and will invite residents to Cane Island's "ambassador suite" for overnight stays. Naef said he got the idea for Hub when he was visiting the Fairmont Hotel in Boston, which features canine ambassadors to welcome guests.
Additionally, Residence will also find a floral archway at its entrance as well as a 1,500-sq. ft. conservatory, modeled after the Bellagio Conservatory in the iconic Las Vegas hotel-casino, which will showcase seasonal trees and plants and displays.
Marketing Cane Island
In order to market the new community, a pickup truck pulling a mobile "welcome center" trailer will rotate between local real estate offices in the Energy Corridor to showcase the new developments. The trailer will be climate-controlled and feature touch-screen video screens with information about Cane Island. The trailer can also double as a mini concert venue with a full stage, outdoor speakers and a 20-foot-by-10-foot wide screen.
The community is expected to open in mid-2015. For more information, visit http://caneisland.com.