States have tried to keep price appreciation in check, but some markets have stepped into overvalued territory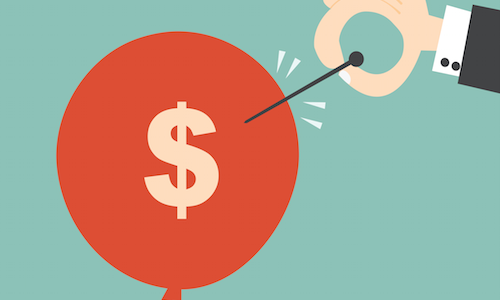 Since 2007, when the economic downturn that sent the nation's housing market into a smoking tailspin began, lawmakers and industry influencers have been careful to avoid the pitfalls of runaway home prices and predatory lending that helped spawn the initial bubble. But despite their efforts, some markets are facing circumstances not totally unlike those that preceded the crisis.
According to a new report from CoreLogic, certain markets show definite signs of overvaluation, indicating the possible appearance of a bubble. However, as bubbles are most often defined in retrospect, it's difficult to determine whether one is happening or not. Therefore, the report simply attempts to define overvaluation by measuring trends in home price appreciation.
In Houston, where prices remain affordable relative to national levels, appreciation has risen briskly since 2013, when prices increased at a pace of 11.1 percent. Last year, appreciation jumped to 12.2 percent, CoreLogic reported.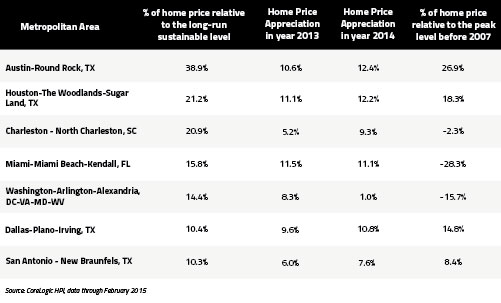 The strong pace of appreciation has helped elevate home value in Houston, which has had the positive effect of building equity where it previously didn't exist. But conversely, the rapidity with which prices have been increasing has pushed prices 18 percent above their pre-crisis peak. CoreLogic researchers found that, currently, only 21.2 percent of homes fall within a healthy range suitable for long-run sustainability. With more three-quarters of the market overvalued, Houston faces some serious long-term affordability issues, which could translate into less building, exhausted inventories and, in the worst of worst-case scenarios, a collapse.
Corroborating CoreLogic's observations, Fitch Ratings, a statistical rating organization recognized by the U.S. Securities and Exchange Commission, released a similar report in which the group quantified Houston's overvaluation, putting prices at 18 percent above real value. At that level, Houston is one of the most overvalued cities in America.