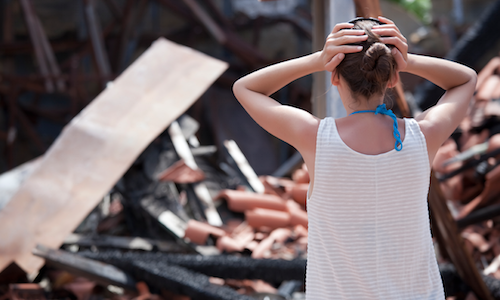 Around the nation, the risk of natural disasters varies depending on a number of factors, including geographical makeup and location. In its 2015 U.S. Natural Disaster Housing Risk Report, RealtyTrac found that 35.8 million single-family homes and condos, or 43 percent of the group's 83.4 million home sample size, sit in counties deemed at high or very risk for natural hazard, and represent an estimated market value of $6.6 trillion.
The report examined 2,318 counties nationwide, assigning risk values ranging from very low to very high. Forty-three percent of the properties analyzed were at high or very high risk for at least one natural disaster. The precarious and possibly dangerous placement of the homes seems counterintuitive at a cursory glance, but on average, home values were actually higher in higher-risk areas.
Properties in areas more prone to natural disasters averaged an estimated market value of $191,244, while homes in very low risk areas averaged $151,793. Evaluating prices over a 10-year span, home prices in low-risk counties appreciated more, but homes in very high-risk areas were able to bounce back over the past three years, where properties faced hurdles more immediate than the threat of natural disasters – like foreclosures.
The reason is that many of the countries most desirable metros are situated in harm's way (e.g., on coastlines).
Of the metro areas with the most homes in high or very high-risk counties for overall natural disaster risk, Houston comes in at no. 4 with 1.2 million single-family dwellings and condos.
The city has a long history of weathering Mother Nature's worst, from hurricanes to tornadoes to floods.
In June, Houston was hit with a string of torrential downpours that left much of the metro and its neighbors under water. As we reported, as many as 4,000 properties in areas such as Galleria, Cross Timbers and along a number of bayous were estimated to have been damaged by floodwater.
Making Better Informed Buyers
As many of the country's most popular home markets are blanketed in the threat of impending natural disasters, it is apparent that concern over these threats is eclipsed by the area's appeal. Still, RealtyTrac Vice President Daren Blomquist believes prospective buyers should know the risks.
"In the interest of personal safety and protecting the value of what is likely their biggest financial asset, prospective buyers and investors should be aware of any natural disaster risk impacting a potential home purchase," he said. "There is no reason homebuyers need to be surprised with natural disaster risk information when wading through a stack of disclosures at the closing table given the widespread availability of this data online and even through mobile apps."
Blomquist clarified than "in most cases" knowledge of natural disasters will not deter a sale, but it will allow buyers to make better-informed decisions about appropriate insurance coverage and family contingency plans.