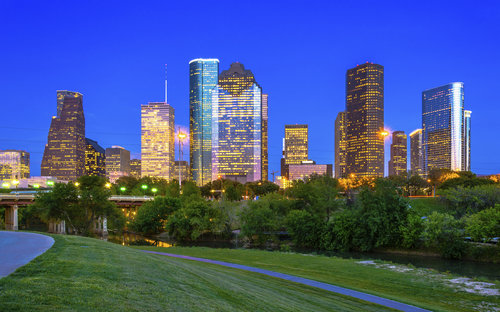 Houston had the biggest population growth of all the largest metropolitan areas in the nation, according to 2015 Census population estimates. From 2014 to 2015, the Houston area's population grew from 6.497 million to 6.656 million, which was a 2.4-percent increase.
The city's change in population was larger than that of both Los Angeles and New York, which are two and three times more populous than Houston, respectively. While New York and Los Angeles' populations grew as well, Houston – and most of the other cities that made the top 10 – seem to be following long-term growth trends dating back to the year 2000.
Sunbelt Migration
According to research from New Geography, migration to states in America's Sunbelt has been very strong. The trend is largely attributed to high housing prices, which consume large shares (as much as 45 percent) of a homeowner's income in places such as Los Angeles, San Francisco and New York, according to Zillow. Housing in Houston and Dallas, in comparison, claims less than 30 percent of homeowners' income. Additionally, more immigrants are choosing to live in Sunbelt cities to seek out both economic opportunities and lower housing prices.
Check out the top 10 metropolitan areas that experienced the largest population change from 2014 to 2015:
| Metro Area | 2014 Population | 2015 Population | 14-15 Change | Percent Change |
| --- | --- | --- | --- | --- |
| Houston | 6,497,864 | 6,656,947 | 159,083 | 2.4% |
| Dallas | 6,958,092 | 7,102,796 | 144,704 | 2.1% |
| Atlanta | 5,615,364 | 5,710,795 | 95,431 | 1.7% |
| Phoenix | 4,486,543 | 4,574,531 | 87,988 | 2% |
| New York | 20,095,119 | 20,182,305 | 87,186 | 0.4% |
| Los Angeles | 13,254,397 | 13,340,068 | 85,671 | 0.6% |
| Miami | 5,937,100 | 6,012,331 | 75,231 | 1.3% |
| Washington D.C. | 6,033,891 | 6,097,684 | 63,793 | 1.1% |
| Seattle | 3,672,866 | 3,733,580 | 60,714 | 1.7% |
| Orlando | 2,326,729 | 2,387,138 | 60,409 | 2.6% |