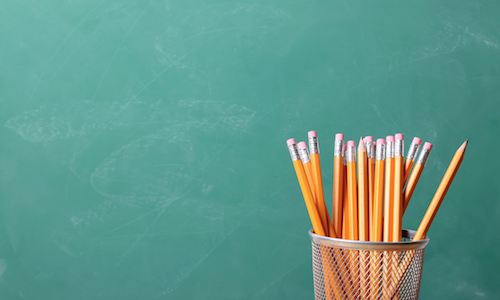 The U.S. Department of Education recently released its 2016 Blue Ribbon Schools selections, and on its list were four Greater Houston schools.
Since 1982, the national Blue Ribbon Schools program has recognized "public and private elementary, middle, and high schools based on their overall academic excellence or their progress in closing achievement gaps among student subgroups," according to its website. All schools selected have a disadvantaged population of 25 percent or greater.
In Texas, 26 schools were nominated by the state's education agency, and all were awarded the designation. In Greater Houston, two Alief ISD high schools and two Houston ISD elementary schools received the prestigious honor.
See the full of Texas' 2016 Blue Ribbon Schools below:
| School District | School Name |
| --- | --- |
| Alief ISD | Alief Early College High School |
| Alief ISD | Kerr High School |
| Azle ISD | Cross Timbers Elementary School |
| Belton ISD | Leon Heights Elementary School |
| Bishop CISD | Petronila Elementary School |
| Borden County ISD | Borden County School |
| Brownsville ISD | Brownsville Early College High School |
| Carrollton-Farmers Branch ISD | Rosemeade Elementary School |
| Dallas ISD | George Bannerman Dealey International Academy |
| Dallas ISD | George Bannerman Dealey Montessori Vanguard |
| Dallas ISD | School of Health Professions at Yvonne A. Ewell Townview Center |
| Edinburg CISD | Canterbury Elementary School |
| Edinburg CISD | Norma Linda Trevino Elementary School |
| Fort Worth ISD | Young WomenÕs Leadership Academy |
| Garland ISD | Hillside Academy for Excellence |
| Houston ISD | Lovett Elementary School |
| Houston ISD | Oak Forest Elementary School |
| Lubbock ISD | Margaret Talkington School For Young Women Leaders |
| Malakoff | Tool Elementary School |
| Miles ISD | Miles Elementary School |
| Panhandle ISD | Panhandle Elementary School |
| Pittsburg ISD | Pittsburg Intermediate School |
| United ISD (Laredo) | Trautmann Elementary School |
| Van Vleck ISD | Van Vleck Elementary School |
| Vista Del Futuro Charter School | Vista Del Futuro Charter School (El Paso) |
| Whitehouse ISD | Gus Winston Cain Elementary School |