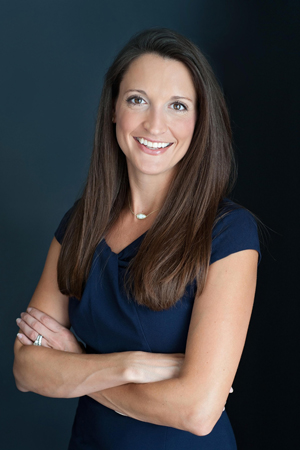 What was your first job in the realty industry? My first job was helping create Blake Wilcox Properties. My husband is the broker and I have experience with marketing and business development.
What do you do to relax when you're stressed? I love to spend time with my family and friends. I also love to go to the gym and read.
Where did you grow up? I grew up in a small town in East Texas, Nacogdoches.
Growing up, what did you want to be? I wanted to own my own business. I never knew what that looked like until now.
If you could have lunch with a well-known figure (living or not), who would it be and why? I would have lunch with my grandfather Neils. He passed away when I was a child but I have the greatest memories of him. He was such a strong man in life and faith and I would love to sit with him as an adult and get to know him more.
Where is your favorite place to hang out? My favorite place to hang out is with my family. We have a lake house outside of Nacogdoches we love to go to.
What do you love most about the industry? I love the high-paced environment and being my own boss. I also love to help people – not just my clients, but the people who work with us.
How do you distinguish yourself from the crowd of agents? I really focus on what the client needs first. That, to me, includes truly marketing their home and thinking outside the box. I also think communication is of highest importance.
What is the most difficult aspect of your job? The most difficult part for me is setting the work down. I can't stop until a task is completed.
Where do you go to network and meet new clients? I network where I see it will not only be beneficial to the cause, but also to try to make it fun. I am a chair for The Junior League of The Woodlands, I am a member of The Woodlands Chamber of Commerce and I am extremely active in the Woodforest community. I believe you can meet clients anywhere.
What has been your greatest accomplishment? My greatest accomplishment so far is growing a successful real estate brokerage with my husband. I love to help others and I get to do that on so many levels. I also get to be the main marketing driver for the company.
What was the last good movie you saw or book you read? I absolutely love audio books. I got hooked on them when I was traveling for a previous job. I love any book I can get lost in.
What is your favorite restaurant? That's a hard one! I love all Mexican food and sushi. I would say Hacienda Real tops my list.
Architecturally speaking, what is your favorite building in Houston? I love the "stair step" building (obviously not the right name, it's really called Bank of America Center). I lovingly call it that because it not only brings back great memories of my father working there but it truly stands out against the rest.
What kind of car do you drive? A Jeep Rubicon!
Smartphone or paper? Both
What is your favorite city after Houston? Dallas
In 10 words or less, what is your advice for someone new to the industry? Buckle down, learn tons, get out and have fun!!
What's your favorite real estate iPhone/Android app? Ripl
Who are your favorite people to follow on Twitter? News, real estate humor and Blake Wilcox Properties (of course).