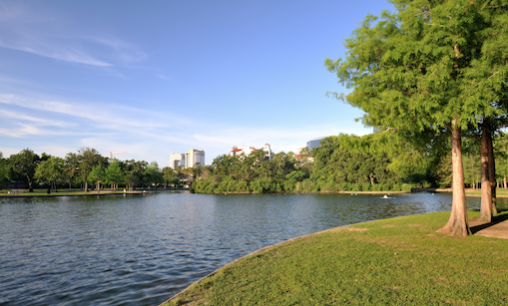 Built among acres of trees and greenspace, Kingwood is Houston's "livable forest." It rides Spring Creek and hugs Lake Houston.
That alone would be enough for many residents, but there is so much more the neighborhood has to offer.
No, there really is that much greenspace – Just to be clear, Kingwood truly has ample green space. The area has more than 500 acres of of private nature preserves and parks, which are outlets for all manner of outdoor frolicking, from fishing, to birdwatching, to boating and hiking and soccer, and so on. The community's moniker is well deserved.
Growing, but affordable – Kingwood is one of the few places in the largely overvalued Greater Houston real estate market where home prices are affordable, yet still growing. Between 2010 and 2015, home prices in the area jumped 17 percent. And in 2016, median price per square foot hit a record high for the area – which, at $98, is still one of the lowest prices in Houston.
A safe space – In the 77339 ZIP code, which covers the majority of Kingwood, the violent crime rate is 33 on a scale of 100 – more than 11 points below the national average – while the property crime rate is 1.5 points below the national average at 42. Kingwood's low crime rate is a selling point not only for the families, who primarily make up the market's buyer pool, but really anyone who wants to purchase a property in the area.
Plenty of opportunities for community involvement – Finally, Kingwood is a community in a very literal sense. Its residents are connected and involved in a way foreign to most neighborhoods in a city Houston's size. Kingwood's official event calendar includes a number of open-invite events, from a dance party on New Year's Eve, to a charity cat show, to an open house at the Kingwood Community Center. There are also more than 100 different clubs and organizations with which community members can meet, share interests, and in many cases, give back to Kingwood.