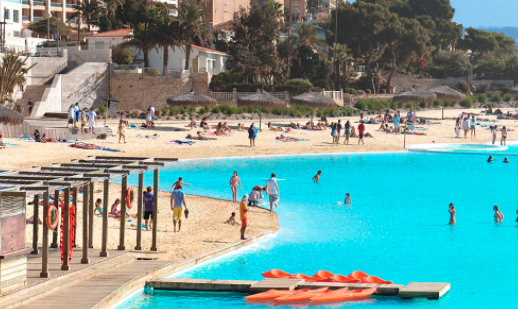 Crystal Lagoon U.S. Corp is partnering up with Houston-based Land Tejas to add new lagoons to their two master planned communities.
One lagoon will cover 1.5 acres (seven times the size of an Olympic-size swimming pool) and serve as the centerpiece of Balmoral, the 580-acre residential community in northeast Houston that Land Tejas acquired last year. Construction is slated to begin this summer with the lagoon expecting to open in early 2018.
The location of the Land Tejas' second MPC has not yet been revealed; however, it will include an 8.5-acre lagoon. Construction is expected to begin at the end of 2017.
Both communities, valued at over $1.5 billion, will feature approximately 2,100 and 4,000 single-family homes, with over $1 billion dollars in projected home sales, according to a statement by Crystal Lagoons.
Each community will also feature a beach clubhouse, with areas for waters sports, such as kayaking and stand-up paddleboarding, as well as white sandy beaches surrounding the lagoon.
Texas a huge market for lagoons
CEO of Crystal Lagoons, Uri Man, who recently opened the Crystal Lagoons' Texas office in Dallas, said that he expects Texas to be the company's biggest market because of the ability for a lagoon to transform a landscape and add value to real estate.
"Lagoons are nothing short of transformative," Man told the Dallas Business Journal last October. "Texas is going to be our biggest market. It has a great economy and will help make Texas a great place to live," he added.