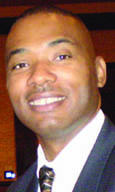 What was your first job in the realty industry? My first real estate job as an agent was a commercial project. It took over 15 months to close but it was worth the wait!
What do you do to relax when you're stressed? Most of the time I just sit down and put on some jazz. This allows me to relax before I start looking over paperwork for my sellers and buyers.
Where did you grow up? I was born in the country, but moved to Houston days later. What a great place to be, I think!
Growing up, what did you want to be? Growing up I wanted to be everything!  I must say I have done everything I wanted to do! God is good and I owe it all to him.
If you could have lunch with a well-known figure (living or not), who would it be and why? Well I would  have lunch or dinner with President Obama and his wife for sure!
Where is your favorite place to hang out? River Oaks. The community is great and the people are wonderful.
What do you love most about the industry? I love this industry, because I get to help everyone in need of help. I always give 200 percent to everyone – it's a must!
How do you distinguish yourself from the crowd of agents? Well, I always place myself above the rest! Please don't get me wrong there are good agents out there! I will rate myself as a top 10!
What is the most difficult aspect of your job? In this business every file is different. Some can be a little harder, because of credit or income reasons.
Where do you go to network and meet new clients? The one thing about me – I network everywhere. I meet people by the second.
What has been your greatest accomplishment? One of my greatest accomplishments is becoming a broker and owning my own real estate firm.
What was the last good movie you saw or book you read? The last good book I read was my own book. Here's the title: "You Made Me Love Your Man." I am the author of four books and I have another on the way.
What is your favorite restaurant? One of my favorite restaurants is Gringo's.
Architecturally speaking, what is your favorite building in Houston? The old Dome off the 610 freeway in Houston
What kind of car do you drive? A Porsche, a BMW and a Ford Explorer
Smartphone or paper? Smartphone for sure
What is your favorite city after Houston? Denver, Dallas
In 10 words or less, what is your advice for someone new to the industry? Call Anthony Taylor Realty for your new career.
What's your favorite real estate iPhone/Android app? Android for me
Who are your favorite people to follow on Twitter? Bill Gates and my staff at Anthony Taylor Realty