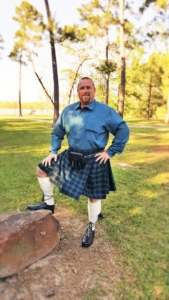 Name: Cory McDonald
Title: Agent
Company: JLA Realty
Primary City/Neighborhood: Houston
What was your first job in the realty industry? Agent
What do you do to relax when you're stressed? Drone video and volunteering for a non-profit organization
Where did you grow up? Houston
Growing up, what did you want to be? Police officer
If you could have lunch with a well-known figure (living or not), who would it be and why? Gary Vaynerchuk. I have gained so much motivation and knowledge from his work. I would like to thank him.
Where is your favorite place to hang out? In my backyard with my wife, Deborah
What do you love most about the industry? The opportunity to help people find their dream home and meet new people everyday.
How do you distinguish yourself from the crowd of agents? I embrace my Scottish heritage and I wear a kilt everyday. I am known as the "Kilted Realtor."
What is the most difficult aspect of your job? Sometimes there are delays and setbacks due to there being so many pieces of the puzzle in real estate, and finding solutions can be trying at times.
Where do you go to network and meet new clients? Everywhere, every day I meet new people, but there is one place that stands out the most. I volunteer for Texas Adaptive Aquatics and we have a fundraiser every Wednesday evening serving steaks. This fundraiser helps pay for fuel and equipment so that we can water ski as many disabled children as possible.
What has been your greatest accomplishment? Establishing a great brand
What was the last good movie you saw or book you read? I recently read a great motivational book called "Get S#!t Done!" by Chad Prior
What is your favorite restaurant? Anything Indian or Mediterranean
Architecturally speaking, what is your favorite building in Houston? Trinity Episcopal church in Midtown
What kind of car do you drive? A Honda Accord
Smartphone or paper? Smartphone
What is your favorite city after Houston? Fredericksburg
In 10 words or less, what is your advice for someone new to the industry? Brand yourself and embrace technology.
What's your favorite real estate iPhone/Android app? HAR app
Who are your favorite people to follow on Twitter? Dmac Marketing Productions, Housing Trends and Realtor.com