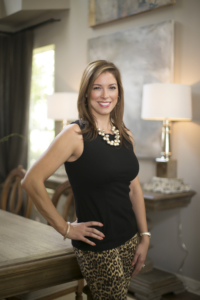 Name: Tiffany Patterson
Title: Realtor
Company: RE/MAX The Woodlands & Spring
What was your first job in the realty industry? Loan Officer
Where did you grow up? Spring TX
Growing up, what did you want to be? Designer/Architect
What do you do to relax when you're stressed? I love to be outside by the pool with my family
If you could have lunch with a well-known figure (living or not), who would it be and why? So many business figures to choose from that I admire and follow but my choice would be a musician, Stevie Ray Vaughn. I'm a big music junkie and he is who I listen to most often when I want to just wind down, reset and clear my thoughts. Would love to sit down with him and hear a little music.
Where is your favorite place to hang out? Home with neighbors, friends and family, but I love to travel to Las Vegas.
What do you love most about the industry? I absolutely love my clients and helping them get to the next chapter in their life.
How do you distinguish yourself from the crowd of agents? I provide more services, coordinate repairs, home prep, staging, etc. and in like to reach out on occasion to let them know I'm thinking about them after the sale. I feel like I create lasting friendships with my clients.
What is the most difficult aspect of your job? Getting multiple offers on my listings and having to tell agents that their offer wasn't accepted. I respect how hard they work to find the perfect home for their clients and hate the thought of their buyers losing out on a home they really love.
Where do you go to network and meet new clients? This is difficult because I don't like to talk too much about my business to new people for the intent to make them a client. Everywhere I go, I meet try to meet people and focus more on building relationships and being a resource for real estate info as a bonus.
What has been your greatest accomplishment? My daughter, my family and my friendships.
What was the last good movie you saw or book you read? Movie – The Greatest Game Ever Played. It's an older one but it is a must see!
What is your favorite restaurant? Brennan's in Houston. I love it so much, my husband and and I married there with a small group of 25. Very beautiful place.
Architecturally speaking, what is your favorite building in Houston? JP Morgan Chase Building in Houston. The entry before you walk through the front doors is stunning.
What kind of car do you drive? BMW X5
Smartphone or paper? Smartphone! But I am a little old school and keep a notebook to write down my daily goals and tasks. I feel if I write it down, I'm committing to it.
What is your favorite city after Houston? Las Vegas and Fredericksburg. Two completely different atmospheres but they never get old.
In 10 words or less, what is your advice for someone new to the industry? Let clients take their time, don't focus on the commissions.
What's your favorite real estate iPhone/Android app? HAR
Who are your favorite people to follow on Twitter? Richard Branson, Ivanka Trump