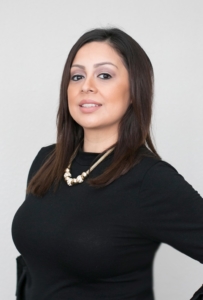 Name: Dalila Juarez
Job Title: Realtor
Company name: RE/MAX Generation
What was your first job in the realty industry? Hostess to a builder / Transaction coordinator for a RE/MAX office in Spring
Where did you grow up? North Houston
Growing up, what did you want to be? Chef, Photographer, Cop … just to name a few
What do you do to relax when you're stressed? Sleep. I like to take a breather and chill to get my composure back!
If you could have lunch with a well-known figure (living or not), who would it be and why? Mauricio Umansky. I would like to pick his brain more about this industry.
Where is your favorite place to hang out? Home
What do you love most about the industry? Different things happen every day. I can get bored with routine so this keeps me on my toes.
How do you distinguish yourself from the crowd of agents? I started in this when I was 22 years old. I have worked in the insurance industry, was a real estate assistant, and worked in Title and Escrow. The only thing I haven't done is loans & I don't plan on it. I'm definitely well rounded in this industry.
What is the most difficult aspect of your job? Trying to keep everyone in line throughout the process. I like to be very involved so I continue to ask for updates from all parties. Inspectors, insurance, title, lender, the list goes on.
Where do you go to network and meet new clients? I'm working on networking more.
What has been your greatest accomplishment? Taking the plunge and taking a risk on myself to leave a steady pay at a Title Company and working for myself. It hasn't disappointed yet.
What was the last good movie you saw or book you read? Coco – it seriously made me cry and think of my childhood
What is your favorite restaurant? I'll go anywhere they sell seafood.
Architecturally speaking, what is your favorite building in Houston? I don't have one, I like to look at any old buildings that are vacant and imagine what they were like when they were in their prime.
What kind of car do you drive? Jeep Compass
Smartphone or paper? Both
What is your favorite city after Houston? Chicago
In 10 words or less, what is your advice for someone new to the industry? Be ready to hustle
What's your favorite real estate iPhone/Android app? RPR – HAR
Who are your favorite people to follow on Twitter? I don't really get on twitter
---
Want to be featured in our Agent Snapshot? Click here and complete this survey. Agent Snapshots are published on our website and shared in our newsletter and social media feeds.