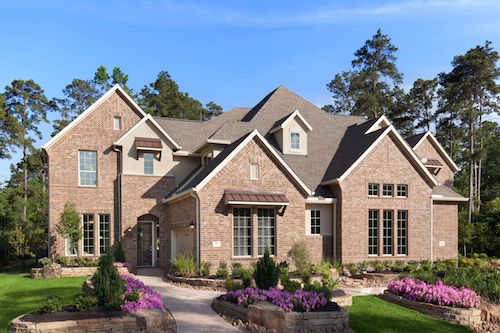 Living in a major city often means sacrificing nature and green space in order to have convenient access to major amenities as well fine dining, shopping and entertainment.
Some of the new developments coming to the Houston metro area are looking to strike the balance of the city life with a more comfortable and relaxed way of living. Grand Central Park from Johnson Development is one of those communities.
Spread across 2,046 acres, Grand Central Park is a master-planned community located only five miles north of The Woodlands, with beautiful homes and a gorgeous surrounding landscape. The site is the former location of Camp Strake, the flagship camp of one of the country's largest Boy Scout councils for more than 70 years.
---
"Our residents often say, 'If you want amenities, just look outside your front door!'" – Virgil Yoakum
---
Virgil Yoakum, senior vice president of development at Grand Central Park, says that the location of this community is central to its identity. Johnson Development purchased the land that would become Grand Central Park in 2013 and spent two years studying the land and figuring out how to best utilize it.
"Certainly acquiring one of the most treasured properties in the Houston area came with the responsibility of protecting its natural beauty while helping write its next chapter for future generations to enjoy," Yoakum says.
Johnson Development decided to preserve two-thirds of the property and committed to only building on specific parts of the land. Now, the natural landscape has become a signature amenity for the community.
"Our residents often say, 'If you want amenities, just look outside your front door!'" Yoakum says. "We like to call it 'The Grandeur' of Grand Central Park."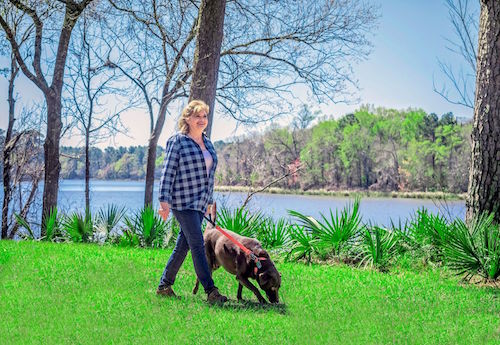 Grand Central Park features nature trails available to residents only, along with Trillium Park, which provides a natural space with a pavilion and picnic tables next to a babbling brook. There are more amenities planned for the community, including a dog park, sport court, pool and playground.
Because Grand Central Park is still under development, Johnson Development is regularly surveying residents to see what activities and amenities are of most interest to them.
"Master-planned communities have their specific way of doing things, so it has been nice to give the residents a say in what happens," says Krista Glasscock, sales counselor at Coventry Homes, one of the homebuilders at Grand Central Park. "We've talked about a lot of different things. One of the residents who walks their dogs along the trail asked for places along the trail for dogs to get a drink."
Location, location, location
Glasscock also notes the location of the community as a perk for homeowners who are commuting to downtown Houston for work or play. Residents in Grand Central Park can drive to I-45 and Loop 336 within a few minutes, allowing easy access to The Woodlands, ExxonMobil or the Conroe Regional Medical Center, as well as George Bush Intercontinental Airport and Conroe North-Houston Regional Airport.
---
"It's just a really convenient location, and a beautiful environment." – Krista Glasscock
---
Carol Knott, a broker associate with RE/MAX Integrity, has seen her clients gravitate toward Grand Central Park because of its convenient location.
"I think that it's a little bit away from the hustle and bustle of the The Woodlands and Market Street, but close enough that they can have dinner out with friends or go shopping," Knott says.
Plus, Yoakum notes, the area is now home to the 336 Marketplace, where Kroger Marketplace, HomeGoods, Ross Dress for Less and other shops are now open.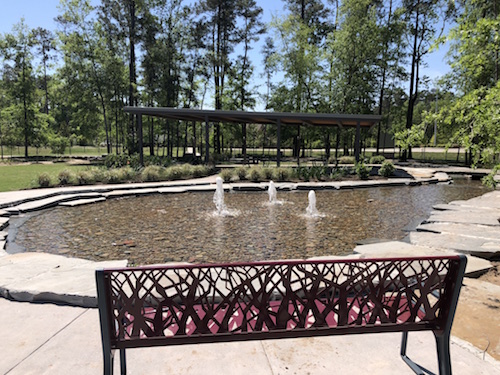 "It's just a really convenient location, and a beautiful environment," Glasscock says. "When people live here, they can go out to eat and go shopping and do outdoor sports and exploration right where they live."
These community features have attracted homebuyers from all walks of life, from young professionals to empty nesters.
"A lot of huge communities are off the beaten path and traffic can get so bad. So the convenient commute brings in a lot of young professionals," Glasscock says. "And the convenient lifestyle of not having to drive to far to get to stores or restaurants brings people who are retiring and empty nesters."
It's not just the location attracting potential residents. The large selection of luxury home options allows for buyers at a variety of levels to consider Grand Central Park home. Coventry Homes offers luxury townhomes that range from 2,400 to 3,500 square feet and, Glasscock says, the homes are so well-built that it doesn't feel like you're living in a townhome.
---
"There's a real sense of camaraderie and family in the neighborhood." – Carol Knott
---
Knott says that she's seeing a lot of interest in the number of one-story options available for clients.
"If I have a client who knows they want a one-story home or are leaning that direction, I always take them up to Grand Central Park," Knott says. "It is a great neighborhood."
As the variety of residents move into the area, Johnson Development has worked to help them feel connected to the community and their neighbors by hiring a full-time "Director of Fun" to organize festivals and large-scale events in the community, along with community clubs such as a wine club, cooking club, book club and more.
"My clients have really enjoyed the neighborhood get-togethers so that they can get to know each other," Knott says. "Everyone is new here because it is a new community, so that helps develop relationships. There's a real sense of camaraderie and family in the neighborhood."