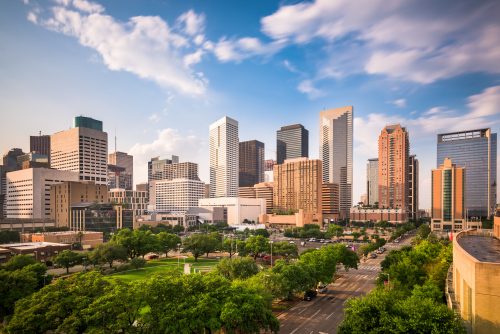 Billionaire Tilman Fertitta is running into some trouble with its newest building The Post Oak in Uptown. According to recent reports, the building currently has dozens of liens filed against it adding up to more than $30 million, which includes almost $20 million not paid to Tellepsen Builders, the core and shell general contractor. Some of the other lienholders include Trio Electric for $3 million, Dynamic Systems for $2.5 million, Haley-Greer for $1.6 million and Letsos Co. for $1.4 million.
Tellepsen told the Houston Business Journal that negotiations to get payment from Landry's Inc. — the development company owned by Fertitta, have failed in the past but they are hoping to work it out quickly. However, Landry's Executive Vice President of Development Jeff Cantwell told Bisnow that they plan to take this to arbitration.
In other Houston real estate news:
Winther Investment broke ground on a new seven-story midrise apartment in Midtown, the Houston Chronicle reports. Steinberg Dickey Collaborative designed the building, which will include five floors with 216 apartment units and two floors of parking. The units will mainly be one bedroom plans, with a few two- and three-bedroom options available. Amenities at the building are expected to include a pool, fire pit, clubhouse and a sky lounge on the top floor with views of downtown Houston. The project is expected to be complete by 2020.
Dalcor Holdings LLC received the financing needed to acquire and renovate Vista on Gessner. The company plans to convert all 805 units in the property to affordable housing. The building will be available for renters earning 60 percent of the median income, according to Multi-housing News.
The Houston Business Journal has photos of Johnny Carrabba's home that he is listing. The local restauranteur who co-founded Carrabba's Italian Grill is listing his mansion for $18.9 million. The property contains two single-family homes on 1.6 acres of land, and the house comes with a 1,000-bottle wine cellar and vaulted brick ceiling with wood beams in the kitchen and dining area.