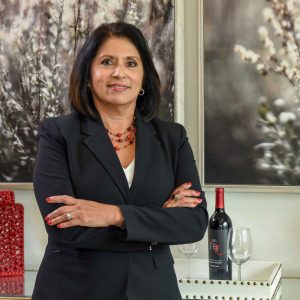 Name: Marta Guerrero
Job Title: Real Estate Broker
Company: Marta Guerrero Realty
What was your first job in the realty industry? Realtor and real estate salesperson for one of the big, well known brokerages in Bellaire, TX
Where did you grow up? I am a native Houstonian
Growing up, what did you want to be? I loved music and wanted to play the piano.
What do you do to relax when you're stressed? I enjoy relaxing in a bubble bath with essential oils like lavender, cedar wood or stress away, and sitting in a quiet room reading a good book.
If you could have lunch with a well-known figure (living or not), who would it be and why? The Apostle Paul, I'd like to ask him about his amazing transformation while on the road to Damascus.
Where is your favorite place to hang out? With my family and the kids or out with close friends while enjoying a nice meal
What do you love most about the industry? Each day and each transaction is different — I never get bored. There is always something new to learn.
How do you distinguish yourself from the crowd of agents? This is my full-time job, I am a native Houstonian — born and raised in Houston. So I am very familiar with the greater Houston Metro area, and I am bilingual in Spanish.
What is the most difficult aspect of your job? Being consistent with daily prospecting activities
Where do you go to network and meet new clients? Chamber of Commerce, L.E.A.D. and open houses
What has been your greatest accomplishment? My success in my real estate business and obtaining my Real Estate Broker license
What was the last good movie you saw or book you read? The Birth Order Book – it's a fun book that helps you learn why we are the way we are and can help us understand each other
What is your favorite restaurant? Goode Company Seafood, I love their seafood empanadas and their Campechana Extra, a Mexican-style seafood cocktail!
Architecturally speaking, what is your favorite building in Houston? I love the Frank Lloyd Wright bungalows that you find in older Houston neighborhoods. I love the design and the front porches. I grew up in one and I love Wright's architecture
What kind of car do you drive? Mercedes Benz ML-350 SUV
Smartphone or paper? Smartphone of course!
What is your favorite city after Houston? Newburg, Scotland, my daughter and her family live there
In 10 words or less, what is your advice for someone new to the industry? Find a brokerage that provides mentoring/training for new agents-there is so much more to learn
What's your favorite real estate iPhone/Android app? Dropbox, I can access all my important transaction documents on my cell phone when away from my computer
Who are your favorite people to follow on Twitter? Katie Lance, I learn tips on social media marketing from her, and Abby Vasek, I get updated on new home designing trends and decorating ideas
---
Want to be featured in our Agent Snapshot? Click here and complete this survey. Agent Snapshots are published on our website and shared in our newsletter and social media feeds.