Home sales were up 3.9 percent from a year ago nationwide in September but still took a 2.2 percent dip from August, according to the National Association of Realtors. The 2.2 percent decline put the seasonally adjusted annual rate at 5.38 million – a 20 million increase from September 2018.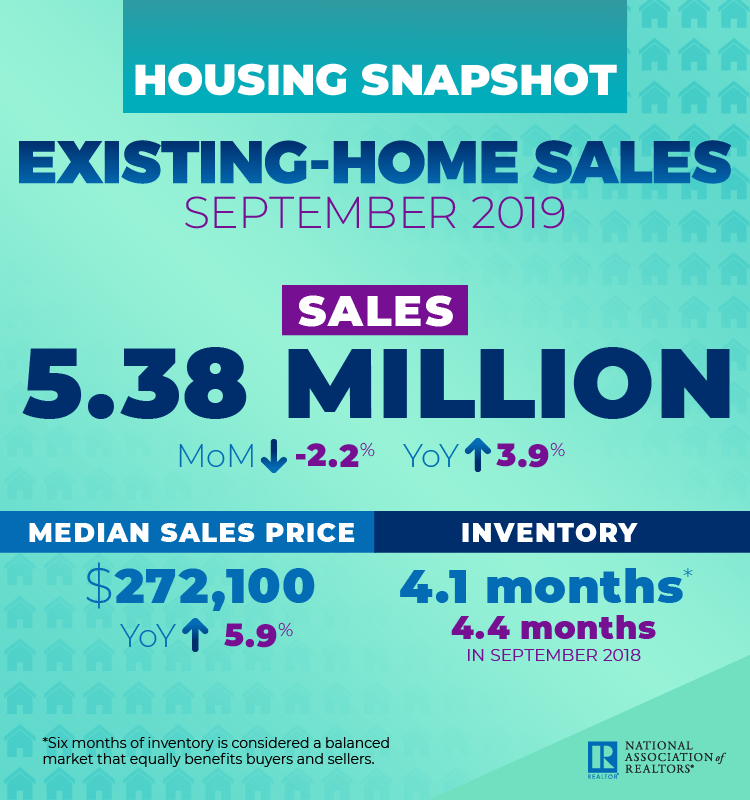 The decline in existing-home sales – that includes single-family homes, townhouses, condos and co-ops – was felt in all four regions, but the Midwest took the biggest hit.
Sales in the South dropped 2.1 percent to an annual rate of 2.28 million for the month, which is a 6 percent increase from September 2018.
NAR Chief Economist Lawrence Yun said that despite historically low mortgage rates, sales have been sluggish in part because of the low level of new housing options. "We must continue to beat the drum for more inventory," he said in a press release. "Home prices are rising too rapidly because of the housing shortage, and this lack of inventory is preventing home sales growth potential."
Median existing home prices also were up for the month of September, according to NAR, increasing 5.9 percent to $272,100 from a year earlier. The rising values in September put the year-over-year gains into its 91st consecutive month.
In the South, the median price jumped 6.3 percent to $237,300 from a year ago.
Housing inventory nationwide was 1.83 million at the end of September – that's about flat from a month earlier but a 2.7 percent decrease from the 1.88 million reported a year ago.
Properties typically stayed on the market for 32 days in September, an increase of one day from August and even from a year prior.
First-time homebuyers represented 33 percent of the sales in September, up two percentage points from August and one percentage point from September 2018.
"For families on the sidelines thinking about buying a home, current rates are making the climate extremely favorable in markets across the country," NAR president John Smaby said. "These traditionally low rates make it that much easier to qualify for a mortgage, and they also open up various housing selections to buyers everywhere."
Foreclosures and short sales remained flat at 2 percent in September from the previous month and down from 3 percent in September 2018.
The average commitment rate for a 30-year, conventional, fixed-rate mortgage dropped to 3.61 percent in September, down from 4.54 percent in all of 2018. That bodes well for buyers, according to Yun.
"Mortgage rates under 4 percent are amazingly attractive for homebuyers," he said. "The rise in foot traffic as evidenced by the open rates of SentriLock key boxes shows growing buyer interest."