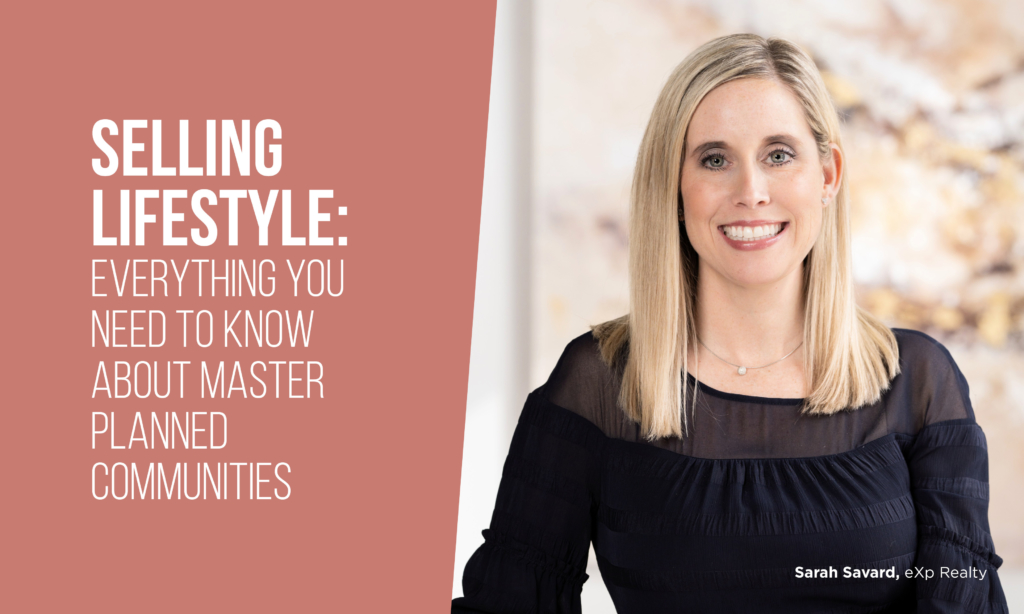 Selling master planned communities is more about introducing clients to a new way of living than selling homes. At its core, it's selling lifestyles, a concept that requires a different approach to helping clients find a home they will love at a price they can afford. It is an approach real estate professionals who conduct a lot of business in MPCs are happy to share with you. From the fine details unique to purchasing a property in an MPC to effortlessly finding the data buyers expect to incentives exclusive to selling homes in these exciting developments, they cover it all and more.
Open the door to a new way of living
The main difference between MPCs and non-MPCs is diversity, said Nimesh Patel, a broker-owner of RE/MAX Fine Properties. "You get a diverse number of builders, a diverse range of products – homes from $250,000 to $1 million plus – different types of people from different economic statuses and a ton more amenities."
Unlike the subdivisions of days gone by, that had a pool with a diving board, MPCs pair new construction with fantastic amenities that make spending time at home feel like a vacation. The developments typically have water parks, recreational lakes, state-of-the-art fitness facilities, playgrounds with equipment that surpasses ordinary jungle gyms, dog parks, athletic fields, amphitheaters, and scenic hiking and biking trails that connect it all. Not to mention a full-time activities director to oversee events like movie nights, concerts and picnics that foster a sense of community.
Even getting to and from school is exciting. MPCs are so large, the developments usually have their own schools within the acreage that residents can walk or bike to, Patel noted. Additionally, MPCs are always in close proximity to major thoroughfares, enabling homeowners to get anywhere in Houston quickly, including to work in the city's main employment hubs. Equally impressive, the developments are known for having vibrant shopping, dining and entertainment onsite, giving residents little need to venture outside the area. On top of that, Patel said the diverse product lines available at MPCs appeal to multiple generations of families. "You might have a growing family of five living in a $600,000, 4,000 square-foot home and the grandparents living in a $250,000 patio home down the street," he said. "I have learned that as soon as I sell one family member a home, another family member comes right after them." His own family is no different. Patel, his brother and their parents all live within minutes of each other, in different sections of the same MPC.
A wise investment
Clearly, nobody can guarantee a home's value will increase or decrease, but MPCs provide some insulation against market fluctuations, according to Stephen Bigelow, community sales manager, Newmark Homes at Sienna by Johnson Development Corp. "I've seen it in my decades of selling MPCs. When we went through the 'real estate bubble,' MPCs all tended to fair better when it burst than those that didn't have the same approach."
Without question, MPCs are an easier sell for Sarah Savard, partner-owner, The Franklin Team, eXp Realty. "Historically, they tend to appreciate more, making it a good investment," she said. "When you're buying into an MPC, you're buying a lifestyle in a community."
Valeria Gallegos, new home counselor for Beazer Homes, sells a majority of townhomes at Bridgeland by Howard Hughes Corporation to downsizers. "Many of them are moving closer to their kids who live at Bridgeland," she said. "If they were ever to resell, the home value is greater here versus a non-MPC."
Do your homework
Before visiting an MPC with a client, check it out by yourself, Bigelow said. "Most MPCs have a visitors center. Get on their mailing lists to receive updates on inventories, the community and activities." The activities in particular – Sienna hosts a spring festival, arts festival and snow day for kids, to name a few – provide an opportunity for real estate professionals to invite clients and prospects to come by and experience the lifestyle.
After prospective homebuyers visit the welcome center at Towne Lake by Caldwell Communities to learn about the development, its amenities, the builders and homes that are available, they are sent to the models to find their dream home, said Barbara Locke, sales and marketing manager at Towne Lake. They can even schedule a boat tour and take an up-close look at the waterfront community while coasting on its 300-acre lake.
In Patel's experience, the majority of sales at MPCs are "realtor driven." Luckily, all MPCs work hard to provide real estate professionals with the resources to help establish themselves as market experts, Bigelow said. For example, Sienna has an extensive web site with agent-only access to certain portions of it. The MPC also hosts breakfasts with various speakers, such as the developer, builders, and community leaders, to keep real estate professionals up to date on what is happening in the community, whether its commercial properties moving in or new homes that are available.
Equally important is becoming familiar with the builders at MPCs, Patel said, because there are usually eight to 15 of them. "The builders have all the information about the community: tax rates, school district and HOAs," he said. But be aware, the HOAs vary in each section of an MPC. "You can be on a lake, in a gated community or patio home and the HOAs are totally different," he said. "If you're in a patio home, it might be $1,100; in a gated community, $1,800. You need to know your HOAs, to determine if the client can afford it." On the upside, HOAs don't increase much.
Avoid surprises at closing
Before they reach the closing table, clients also need to be notified of capitalization and enhancement fees. "The fees are what's keeping the overall look of the neighborhood, which helps maintain property values," Savard said. "Values hurt if the community doesn't look good." She explained that these fees depend on the MPC; some developers charge an enhancement and capitalization fee when you purchase a home and some charge it when you sell a home. Every community is different, she explained. It could be the seller's responsibility, or it could be the buyers responsibility. Find out ahead of time what the cost is and who is responsible for it.
Manny Wallace, a sales professional with Perry Homes at Bridgeland by Howard Hughes, makes sure to educate real estate professionals on such issues as comps, as well as how he can make their job easier by doing the work for them. "They just bring the client," Wallace said. "And we ask that they trust in us to take care of them."
Interestingly, comps are calculated differently in MPCs, a crucial fact Patel has seen even appraisers overlook and, as a result, value properties incorrectly. Like HOAs, comps are also based on the section a property is located in an MPC and not the entire community. Therefore, a $1 million custom home in the same development as a $250,000 property will not impact its value and vice versa. "You have to know what price points are in each section," Patel explained.
Another issue homebuyers need to know about is taxes. In Houston, MPCs are built with levies around them to protect against flooding. To pay for this necessary preventive measure, there are two taxes: Municipal Utility District (MUD) tax and Levy Improvement District (LID) tax. As the levies are paid off in the county, that tax gradually decreases, Patel said. All of these facts and figures are readily available by simply asking a community relations manager or builder's sales rep for it. Savard knows firsthand they will be happy to assist you, as she considers the sales professionals who represent the builders the perfect partner. "You have a person to ask what's included in the product being built and upgrades, because every builder is different," she said. "They also know about the community, neighborhood, HOA fees and schools. I always love selling new homes because of that." Actually, their role in the transaction is the same as the seller's agent in a resale deal, Savard said. They represent the seller, who in this case, happens to be the builder.
Benefits of selling MPCs
Selling new homes at MPCs give real estate professionals a chance to increase their income, because builders may have an incremental sales program in place that gradually ups their commission rate each time they sell a property, giving them the opportunity to earn commissions that exceed the standard 3 percent, Savard said. Other incentives might include a Bonus to Selling Agent (BTSA), gift cards and various different rewards depending on the program.
Always be prepared
Whatever you do, don't walk into an MPC cold and think the client won't notice, Patel said. "MPCs have made it so easy for the customer to drive around and find things. They can pick up on it if an agent doesn't know what they're talking about and find another agent in the area who does."