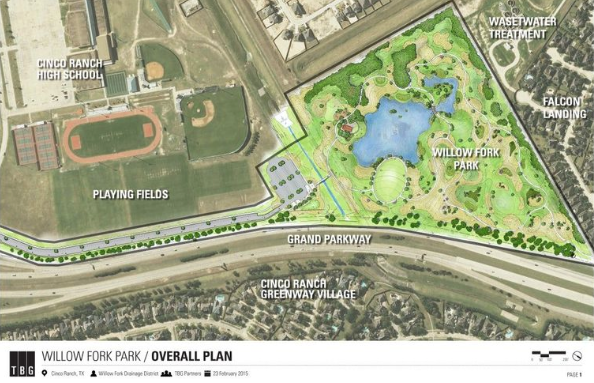 More green is coming to Katy, as the Willowfork Drainage District moves forward with Phase II of it parks master plan.
Situated west of Grand Parkway and north of Cinco Ranch High School, the drainage district, in coordination with Katy Independent School District (ISD), will soon begin development on a 32-acre park, to be named Willow Park, that promises myriad new amenities and a potential boost in property values for the surrounding neighborhoods of Falcoln Landing and Cinco Ranch Greenway Village.
Once complete, the park's amenities will include jogging trails, a lake large enough to accommodate a number of marine activities (such as kayaking and paddle boarding), open lawn event spaces, pedestrian bridges, an 18-hole disc golf course and a playground area, which has been proposed but not yet approved. To add to the "green" aesthetic and appeal, the developers are also including a pavilion with solar-powered lightning.
In June, we reported that Katy was Houston's top-selling suburb with 603 total sales. The additional park is likely to only further strengthen demand and propel home prices and sales already on the rise.
Green for Green
While assigning specific value to parks and similar green spaces has not been of historic importance, in the contemporary market it's becoming increasingly important to quantify their relative worth.
"Green spaces in urban and suburban areas have typically been publicly provided amenities that have no set market price, but it has become increasingly common to evaluate them in terms of their monetary contributions to their surrounding communities," said Natash Catrakilis in article for Duke University's Urban Economics.
In recent years, suburban sprawl has given way to a more pronounced desire for walkable areas, and as a result, quantifying the value of green space has become increasingly important in urban areas.
"Early literature supports the notion that green space causes an increase in property vales," Catrakilis wrote, adding that homeowners and renters are now willing to pay more for the "perceived benefits" of nearby green spaces, such as parks.
Catrakilis admitted that because of the diverse benefits of green spaces, and how particular amenities and their impacts vary from space to space, there is no universal measure to weigh all benefits simultaneously. However, she did cite various studies and examinations that aimed to draw some general conclusions regarding the impact of green spaces in urban environments.
For instance, in one study using Austin's Barton Creek Greenbelt and Wilderness Park as its measure, Sarah Nicholls, in her paper "The Impact of Greenways on Property Values: Evidence from Austin, Texas," revealed that "adjacency to the greenbelt produced significant property value premiums in two of three neighborhoods." For the outlier, in which property values failed to rise to premiums, Catrakilis noted that while values did not rise, they also did not have a "significant negative impact on property values."
Hints of Community Support
For Willowfork Park in Katy, Richard Ward, president of the Willowfork Drainage District's board of directors, told local paper The Katy Rancher he expects the public's response to be "nothing but positive."
"We think it's going to be well-used judging on the success we've had with Central Green at LaCenterra and Exploration Park," he said. "There's a lot of people interested in these parks and there's no fee to use them, so we think it's going to be very interesting."
Evidence of the public's support can be seen all throughout the community, Ward suggested, pointing specifically to a number of teams that are already being put together to utilize the forthcoming disc golf course.
Additionally, he told the Rancher that surrounding businesses have even expressed an interest in sponsoring different areas of the park, which he hopes will help "enhance some of the facilities" planned for the park.