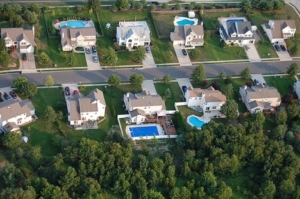 Houston's housing market set new records in May, registering positive gains in all the major categories measured by the Houston Association of Realtors' monthly report, released Wednesday.
Housing inventory grew to 4.2 months' supply—its highest level since August of 2017—helping to give buyers a wider variety of homes to choose from going into the summer.
"We are seeing signs of a healthy and sustainable housing market throughout greater Houston, and that is due to a more plentiful supply of homes, continued low interest rates and a strong local economy," said HAR Chair Shannon Cobb Evans of Heritage Texas Properties.
Sales of single-family homes increased modestly from a year earlier, with 8,346 closings. That's a 2.8 percent increase over last May's 8,117 closings.
The luxury market was out in front of the larger housing market for a second straight month. In one indication of the strength of the high end of the market, the gap between the median and average home sales price widened in May. The median price in May was $249,993—a 2.4 percent year-over-year increase. The average, tugged higher by a 17.6 percent jump of sales in the $750,000-and-up price range, climbed by 5.8 percent to $323,023.
These numbers represent a new record for pricing in Houston, beating the previous record, set in June of 2018. The strong luxury market also helped fuel a 7.8 percent rise from a year earlier in total dollar volume, bringing the total value of transactions in the Houston area for the month of May to just over $3 billion.